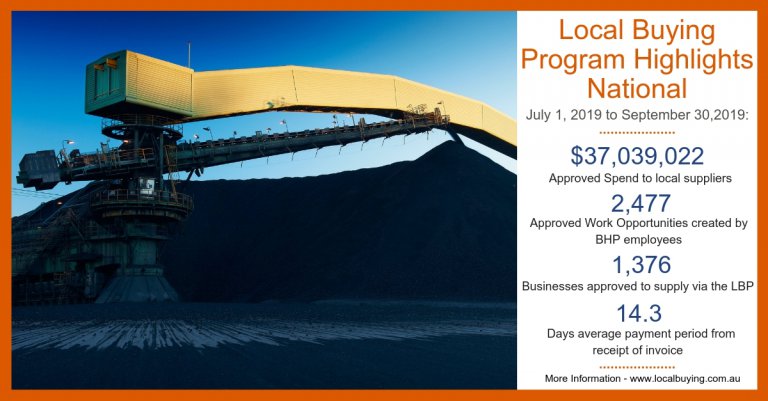 Nationwide highlights – 1 July 2019 to 30 September 2019:
$37,039,021.60 – Approved spend to local suppliers
2,477 – Approved work opportunities created by BHP employees
1,376 – Businesses approved to supply via the LBP
18.7 – Days average payment period from receipt of invoice
Nationwide highlights since inception 2012:
$389,349,350.46 – Approved spend to local suppliers
29,635 – Approved work opportunities created by BHP employees
14.3 – Days average payment period from receipt of invoice
For a comprehensive overview of results for the last quarter, please see the Local Buying Program's National Financial Year To Date Summary.
---
Growth a good sign for our regions
As the numbers ticked over, the  Local Buying Program team was once again keenly watching as Approved Spend edged toward the $400 Million mark toward the end of September.

It didn't quite get there, but it looks like we will be celebrating another milestone in Q2 FY20. Certainly, this is good news for the organisation and the Local Buying Program, which we deliver in partnership with BHP. But what is even more important is the confidence this represents in our regions – and that, in turn, bodes well for our communities.
In a presentation to industry pundits in Mackay, BMA Asset President James Palmer said, "Mackay is getting its mojo back".  And, based on what we see across all LBP footprints, Mr Palmer's words stand to reason in many of the regions we work in.
Talk to anyone in the sector, and they will tell you the future is being driven by autonomous operations, technological advancement and the disruption brought about by artifical intelligence.
At a GW3 (Greater Whitsunday Alliance) conference about business preparedness for the future, held in Central Queensland in early September, C-Res Chairman Kylie Porter – who is also the interim CEO of GW3 – encouraged delegates from the business, industry and community sectors to think about their view and the opportunities they could see emerging  for the future.
The reassuring message, as espoused by all speakers, was that it was our human-ness and our ability to connect and engage with each other which would stand our businesses and organisations – and those therein – in good stead for the future.
C-Res, while in a strong growth phase, was gearing the organisation and the Local Buying Foundation for the future with that in mind. CEO Tracey Cuttriss-Smith said the business had been on a strong trajectory of growth for most of its seven years of operation, although a marked acceleration in growth had been reported in the past 12-36 months.
Ms Cuttriss-Smith said having registered the first supplier and buyers, and lodged the first Work Instruction in 2012, in the midst of the Global Financial Crisis and a time when the resource sector and associated communities were hurting, it had not been smooth sailing. As such, innovation and a focus on people – be they staff, the small business suppliers, or the BHP buyers – were central to every process, system and outcome.
"This organisation has always been about its people," she said.
"We have grown from two staff in 2012 to a team of 25, including an experienced management team.
"Anyone in business, who has been through that kind of growth, knows that your people and your ability to engage with them – both internally and externally – is very important."
Throughout the GFC and what became widely known as a "downturn", C-Res and its partnership with BHP in delivering the Local Buying Program, defied trends and fostered opportunity for the businesses in the regions it operated.
"Our Chairman, Kylie Porter, has a saying that we are putting food on tables, uniforms on kids and helping businesses grow. It's absolutely true and it is something quite special to know that each and every dollar of the hundreds of millions of dollars we have generated in Approved Spend through the Program, represents that very real community impact."
So as the Approved Spend dollar figure ticks over, and the next big milestone gets closer, there grows a sense of assurance and confidence that things are looking up. Indeed, it's looking more and more like the sector, and the regions it supports, are getting the "mojo back"!
---
Onward, upward and all eyes on the future
From C-Res CEO, Tracey Cuttriss-Smith
It has been a powerful start to the new financial year for C-Res and the Local Buying Program.
For a start, the very fact we are in our seventh year of operation and we have grown from two to 25 staff (and, still, we are growing!) are just dazzling to us and we extremely grateful to everyone who has come along for the journey. And, what a journey it has been!
As we have realised milestone after milestone and see the numbers of Work Instructions, Registered Suppliers and Registered Buyers grow, we have also seen our own team strengthen and grow.
Our Local Buying Program replication project for BHP Minerals America, in Chile, South America has been completed and we are now working with the Chile team to strengthen the program, enable its growth and consider the learning and development opportunities for the Program, both here and in South America, which have been identified throughout the course of the project.
Like any organisation, C-Res is always keenly focused on continuous improvement and what that means for each sector of our business.
Our growth and development – and, most importantly, our ability to best service our registered buyers and suppliers – is reliant upon our ability (and willingness) to look closely and what we do, how we do it and what we can learn.
What is even more inspiring, is that concurrent to our growth has been the growth of many of our suppliers – all of whom are in small businesses doing outstanding work in regional – and often rural and VERY remote – settings. To these people, we tip our C-Res hat! They are why we do what we do; why we commit to evaluating every practice, improving at every opportunity; and continue to shift and grow to meet the needs of those who are counting on us.
It's a dynamic, challenging and, ultimately, very fulfilling way to do business.
---
Commitment to team wellness, critical to success
It's not the easiest topic to talk about.
But throughout September, mental health and wellness was the talk of the towns and regions in which C-Res and the Local Buying Program operate.
R U OK Day is a big deal for our organisation; just as it is for the BHP teams, with whom we deliver the Local Buying Program ​​in partnership.
Throughout the Bowen Basin, across the Pilbara, at Roxby Downs and throughout the Upper Spencer Gulf region, and in Muswellbrook and throughout the Upper Hunter region, organisations, local communities and businesses of all kinds and sizes were doing their bit to raise awareness and the volume of the conversation around mental health and wellness.
This took the form of industry breakfasts with guest speakers bravely sharing the stories of their lived experiences, workplace morning teas or cuppas to bring the topic out in the open, promotion of site and business Employee Assist Programs, and ensuring all personnel were provided with information about the services and resources available in their regions.
Organiser of C-Res R U OK Day events, Marketing and Communications Manager Meredith Papas, said the only way of breaking down the stigmas associated with mental health and suicide was to be open, honest and talk about the issue.
"Bringing this out in the open and normalising the topic of mental wellness is so important – especial in the mining, resources, heavy industry and construction sector" Ms Papas, who has also worked in the mental health community sector, said.
"C-Res has been committed to R U OK and the mental wellness of our people – both internally and among our suppliers, buyers and stakeholders. For many years now and we all take each other's wellbeing seriously.
"It can be a tough thing to talk about. But gone are the days where we thought talking about it would cause more harm than good. Clearly, brushing this issue under the carpet did not work."
The mining and resource sector has the highest rate of self-harm, suicide and attempts at suicide than any other sector in Australia.
"That is a sobering fact, but what is heartening is that every year we see the involvement in R U OK activities growing and more people are opening up to talk about suicide and mental health.
"Talking the is key. For some that's not as easy as it sounds, but we are slowly and surely getting better at it. There is still a long way to go, but we are definitely moving in the right direction."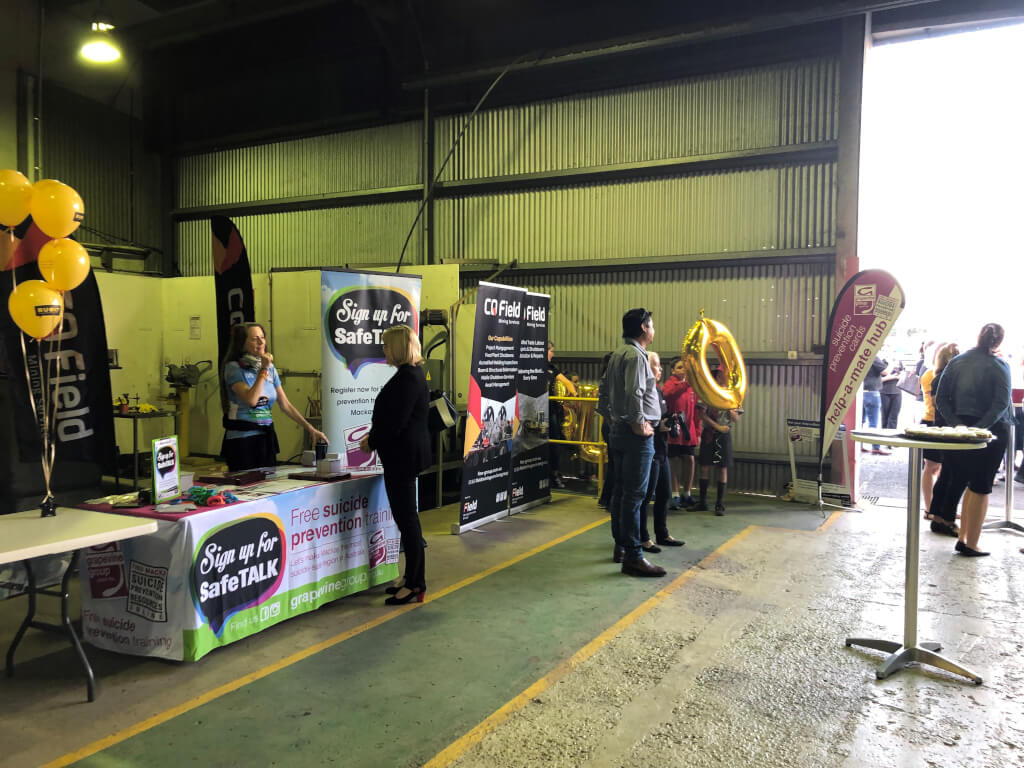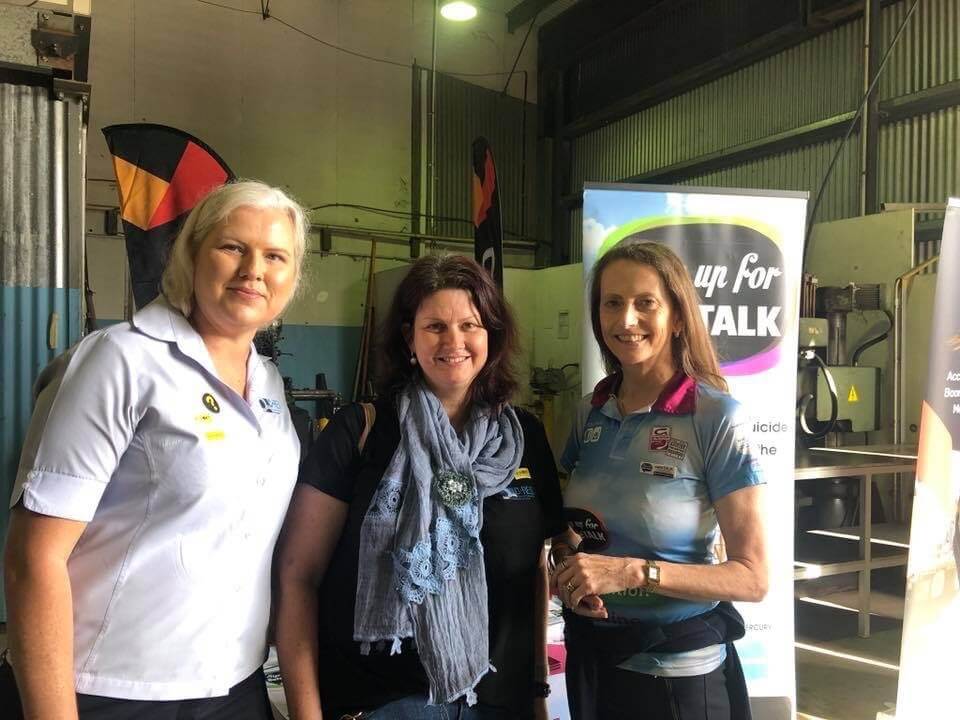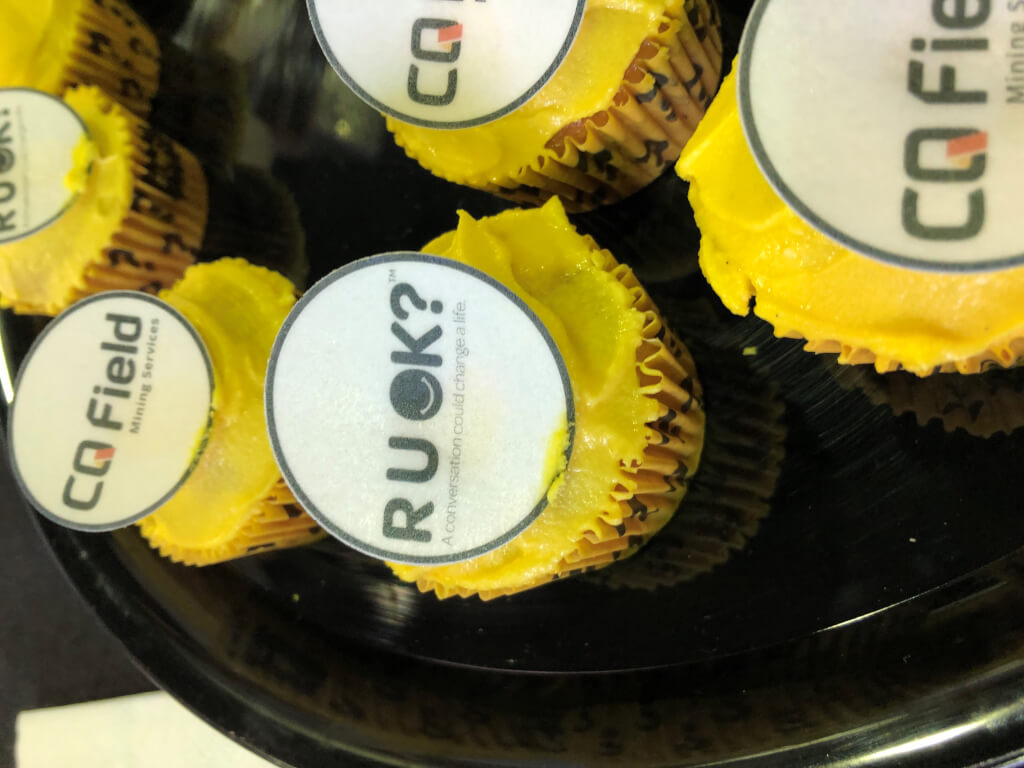 R U OK DAY: Centre: Christine Ferguson (C-Res Program Administrator), at left, and Meredith Papas (C-Res Marketing and Communications Manager) centre, with Minds Aligned Owner/Director and Grapevine Group Mackay trainer Rowena Hardy at the annual Mackay region Resource Industry Network R U OK Breakfast held at CQ Field Mining Services.
---
See what is happening around Australia with LBP
Local Buying Program Highlights (July – September 2019) and Financial Year To Date Summaries: