Local Buying Program in Western Australia
Highlights for Western Australia, 1 July 2018 to 30 June 2019:
$9,190,049 – Approved spend to local suppliers
391 – Approved work opportunities created by BHP employees
240 – Businesses approved to supply via the LBP
14 – Days average payment period from receipt of invoice
For a comprehensive overview of the year that was, including financial results and milestones, see the Local Buying Program's Western Australian FY19 Annual Summary.
For more information on the Local Buying Program in Western Australia please contact your local C-Res Business Development Advisor, Georgie McInerney, via email georgie.mcinerney@c-res.com.au or visit our website.
---
Drop-In sessions offer a mine of opportunity
Recognising the need for increased LBP information sessions and support activities, C-Res has launched a series of Drop-In sessions at the EDGE in Newman. Held from March to June, 2019 the sessions provided BHP buyers, local businesses and community organisations with the chance to learn about the Local Buying Program.
The aim was to encourage discussion of registration requirements, provided one-to-one support to existing suppliers and helped build relationships in the Newman community. The sessions have also provided an opening for the C-Res Business Development team to identify what support was needed to meaningfully develop supplier and buyer relationships through the Local Buying Program.
The fortnightly sessions are held in a central and handy location and help activate the Shire of East Pilbara's retail shop frontage at Newman Town Square. More than 30 existing suppliers have 'dropped in', with some travelling from neighbouring towns. Also visiting have been several buyers from various BHP Newman operations and new businesses taking the opportunity to engage.
The knock-on effects have been rewarding for all involved, and the higher the profile of the sessions, the more businesses and buyers have reached out to have their own Local Buying Program support sessions from C-Res.
The continued growth of the program in WAIO has provided plenty of opportunities for more sessions and more supplier/buyer business development activities.
Watch this space! There are more to come!

COMMUNITY:  Georgie McInerney (C-Res Business Development Advisor – WA) with Shelley Comtesse (BHP LBP Principal) discussing the value of the Local Buying Program, at left; and, at right, 
Georgie McInerney (C-Res Business Development Advisor – WA) with Jessie Appleton (
C-Res Business Development Advisor – QLD) at the WEB hosting a Drop-In Session.
---
Teamwork makes the dream work for Traditional Owner businesses on site at BHP Yandi
BHP Yandi's project team have seen the chance to carve out a section from their larger Yandi project, to create a direct $1.8M opportunity for Rock Armour Stockpile Management for a local Aboriginal contractor.
During March, through the Local Buying Program, a total of 19 Pilbara Aboriginal Businesses were invited to lodge an expression of interest in a collaborative approach between multi-disciplinary teams at BHP.
C-Res managed the EOI and RFQ process, supported supplier communications and coordinated the award process via the Local Buying Program.
Hicks Civil and Mining, a Pilbara family-owned Aboriginal business led by two women, was the successful contractor awarded the tender. They are now mobilised and delivering excellent outcomes onsite.
Hicks Civil and Mining has committed to delivering the project with 70% indigenous participation and with the support of BHP to mobilise as smoothly as possible.
The process was another example of BHP developing Indigenous contractors all-round capability, and building both business and community relationships with Indigenous Owners in the Pilbara.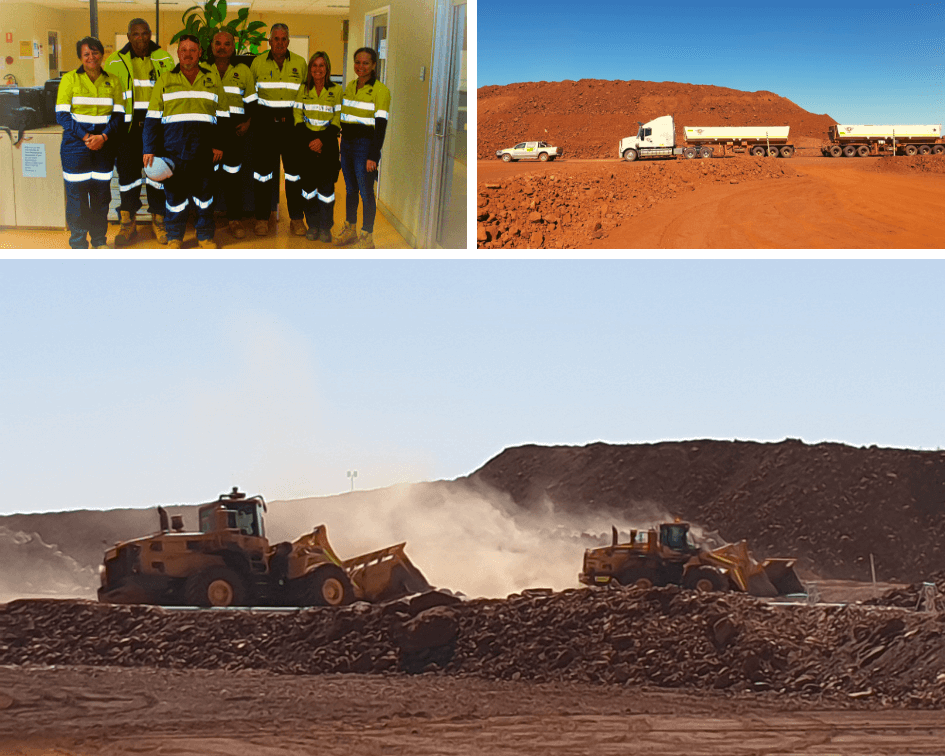 MINING OPPORTUNITY: The Hicks team (top-left) take pride in the work they do, on site, at BHP Yandi.
---
Awards showcase Pilbara business excellence
The Newman Chamber of Commerce and Industry Business Excellence Awards 2019 welcomed more than 150 people to an Arabian Night, held under the stars on the edge of the desert, in Newman.
Thinking outside the square this year, the awards were held at the heart of the community, transforming Newman Town Square to highlight and celebrate the achievements and success of small and medium businesses in the Shire of East Pilbara. Presenters from BHP and the Regional Chamber of Commerce and Industry in WA engaged audiences with speeches and words of encouragement, celebrating the Local Buying Program and C-Res and congratulating all the outstanding local businesses, employers, apprentices, trainees and other individuals who had demonstrated exceptional commitment and dedication to business in the community.
The Local Buying Program and C-Res were delighted to be part of the awards ceremony and thrilled many registered Local Buying Program suppliers were nominated as well as being recognised as finalists in their respective categories.
To the winners, finalists and nominees, we offer our congratulations! We also applaud C-Res' Local Buying Program partner, BHP, for being named Large Enterprise of the Year.
The winners' list included the following businesses:
Retailer of the Year: Boulevarde Pharmacy
Highly Commended: Chicken Treat
Customer Service: Jane Morris, Parnawarri IGA
Highly Commended: Blair McHaffie, MTS Transport
Small Enterprise of the Year:
Highly Commended: Heart and Home WA
Hospitality/Tourism: Newman Visitor Centre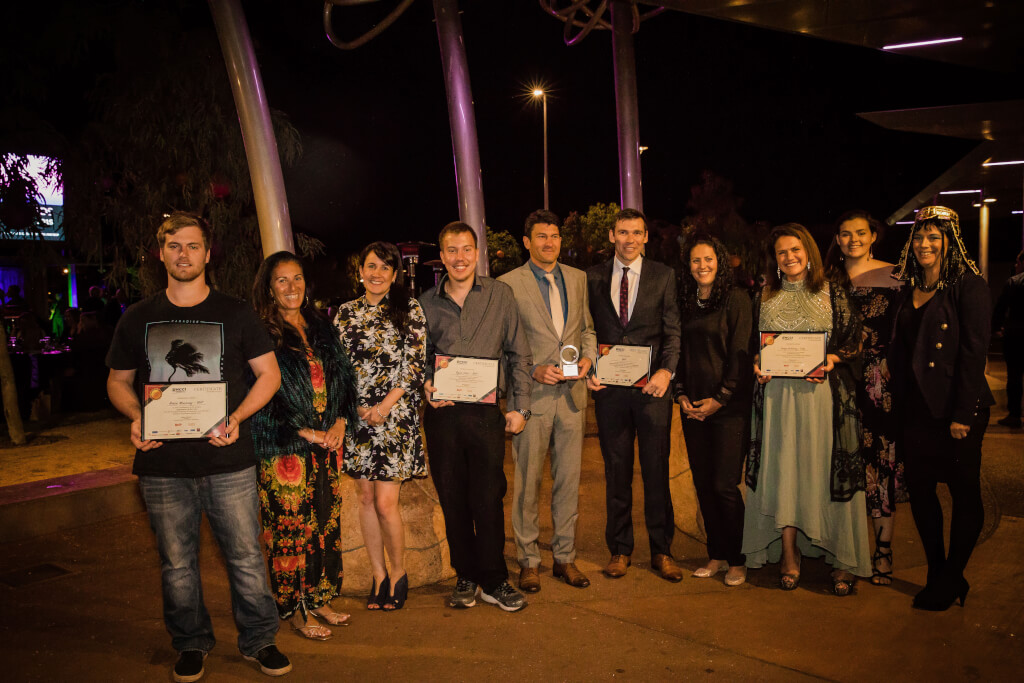 SHOWCASE: BHP representatives, trainees and C-Res staff celebrating the success of businesses awarded at the Newman Chamber of Commerce and Industry Business Excellence Awards.
---
Buyer champions drive LBP success in the West
2019 has seen more BHP personnel than ever using the Local Buying Program across WAIO operations.
Our Business Development team alongside BHP Local Buying Supply team are innovatively working to increase engagement with teams and identify Local Buying Champions among those who purchase services and goods on site. With the approved spend program to date now at $11,757, 862, this targeted approach to site engagement is reaping rewards for local businesses!
There has been a dramatic increase in Local Buying Spend to local businesses in the communities of Hedland and Newman in the second quarter of FY18/19.
'Carve out' projects are purposefully being identified to inject spend into the local economy. At all levels, Local Buying Champions on site are seeking ways to create work instructions across a broad range of sectors including accommodation, photography, infrastructure, food and beverage, trade maintenance services civil works and much more.
This means small local businesses are being engaged and given more opportunity to grow.
There has been a focus on continuing to highlight how local businesses understand local needs and can provide the goods and services that operations require.  BHP and C-Res look forward to continuing to collaborate more with our Local Buying Program Champions on site to engage more local suppliers and work together to assist local businesses through the Local Buying Program in our Pilbara communities.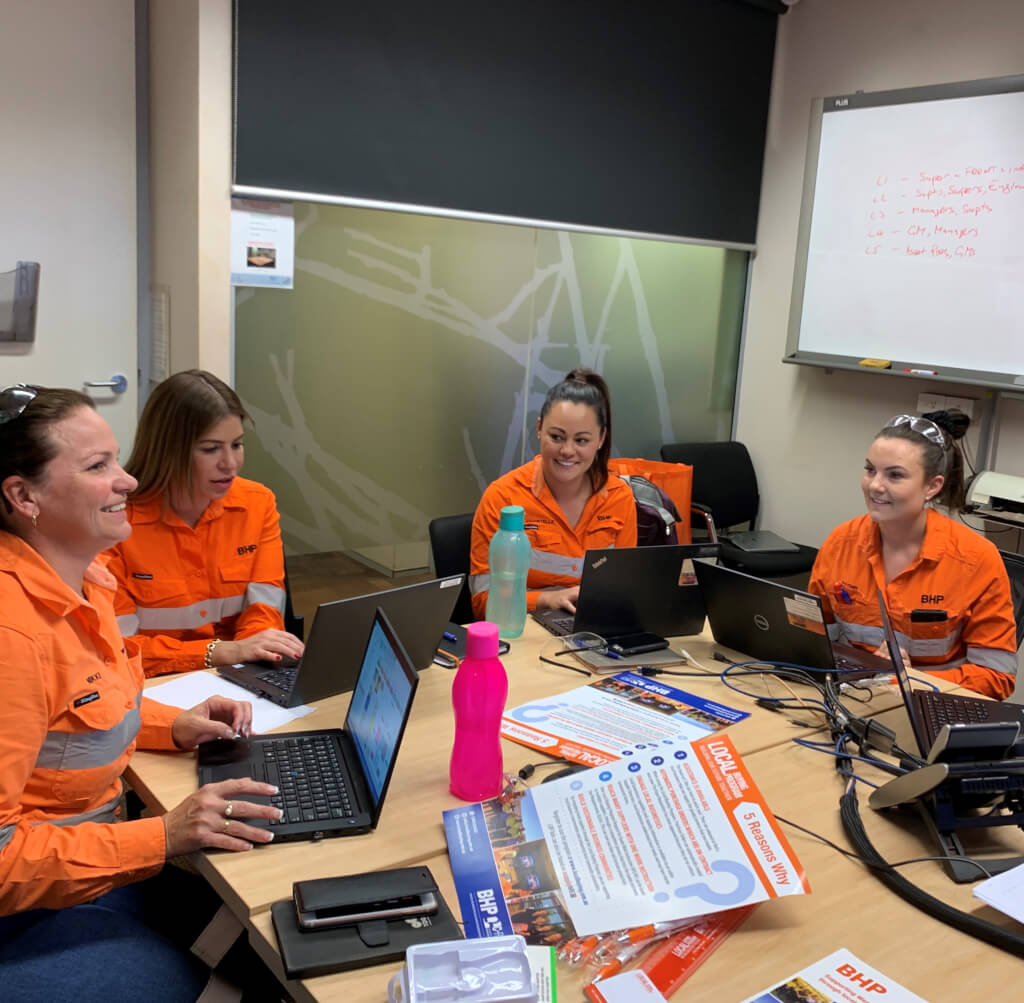 COLLABORATION: Working to support buyers and suppliers at Mt Whaleback are, from left,  Nicky Murphy, Tegan McFadzean, Chantelle Crawley and Rachel Hatch.
---
Local suppliers accommodate shutdown needs
Since February 2019, NPI in the Newman region has looked for ways to source accommodation to sustainably support BHP Newman Operations during the closure of the Kurra Camp in Newman.
It's here that buying local has really made sense! More than US$1M (A$1.4) has been injected into the local community through work opportunities sourced via the Local Buying Program.
That translates to three local accommodation providers been given the chance to develop their capabilities and services to meet the requirements and standards of BHP, ensuring continued engagement and enhancing local community sustainability.

ACCOMMODATING: Phillip Meagher (Red Sands Tavern), at left, and staff and management of the Newman Hotel, pictured right, were quick to offer the right support to BHP Newman operations.
---
Program goes from strength to strength
Having been part of the Local Buying Program since 2017, Rand Maintenance Services (RMS) were initially engaged to assist BHP with the Parnawarri Retail Centre fit out.
As a family-owned business based in Newman, the intent of the program has proven to be an effective way to get into mining. The business has been able to develop capability and capacity through engagement through the C-Res portal which has continued to be a great success for their business. Rand Maintenance has the capability to provide top-class services with client expectations exceeded on safety, performance and execution.
Services include electrical contract supervision, office fit outs, contingent commercial labour hire, electrical installations and air conditioning upgrades. They are also continuously diversifying and building on their strengths – as well as consciously understanding the needs of the local market.
Through the competitive RFQ process Rand Maintenance Services benefited from being able to see a wide range of work opportunities ,and have responded providing quality and timely services saving projects time and increasing productivity of the teams they have worked with. Having been successfully engaged to deliver fit outs and consistent maintenance services for the Parnawarri Retail Centre, which is BHP's largest single social investment, Rand Maintenance have been engaged through the program for a wide range of construction, electrical, fit out and maintenance and other project works.
The Local Buying Program is highlighting the diversity of services Rand Maintenance Services can provide to BHP and they have executed projects and maintenance tasks to BHP standards.  With the increased number of work opportunities, they have been able to procure new specialised equipment and increase local employment and give apprenticeships to young people in the community.
Owner Michael Boshoff has commended the Local Buying Program which he believed provided meaningful and sustainable ways for local businesses to engage with BHP.  The program also benefits the communities in which BHP WAIO operates in, communities Mr Boshoff is raising his own family in – as well as the and the families of the people he employs.The support the program offers throughout the whole procurement process also builds RMS capacity. "The team at C-Res is always on hand to help with any queries you may have," Mr Boshoff said.
"It has been a great experience being involved with C-Res and RMS has completed small projects and regular maintenance with zero incidents," a business spokesperson said.
Rand Maintenance Services continues to work through the program to deliver services to the commercial and mining sector, with experience and access on site at Whaleback, Eastern Ridge and Area C to execute works.

ON THE JOB: The Rand Maintenance Services Team, pictured left, with Michael Boshoff (Owner, Rand Maintenance Services) were given the chance to show what they're made of through the Local Buying Program.
---
C-Res business development crew tour WA's LBP footprint
In May and June 2019 the C-Res Business Development team travelled from Clermont, Qld and Muswellbrook, NSW to visit our WA team and engage in a range of supplier, stakeholder and BHP activities. In May Jessie Appleton, C-Res Queensland Business Development Advisor (BDA) flew to Hedland to meet Georgie McInerney, C-Res Western Australia BDA and BHP Local Buying Program Principal Shelley Comtesse.  Engaging in a range of activities across several days, team building and developing meaningful relationships were key focus points. In Hedland the C-Res team ran Local Buying Program Drop-In sessions at the Web Business Hub, met with our BHP Supply Business Partner, met with Buyers and Suppliers and had fun engaging in the community Welcome to Hedland EXPO with the BHP team.
At the end of June, John Aurisch, the new C-Res Business Development Manager, headed to Newman to meet with Georgie and Amber Warne, BHP Principal Supply Business Partner, visit BHP Jimblebar and see the autonomous trucks. Next the team headed to Hedland to have a site tour with BHP Principal Supply Business Partner Luis Mandujano who took them up close and personal to some of the Port and Rail operations.
Needless to say, John was impressed.
"I was amazed at the operations at both Newman and Port Hedland," he said.
"The smooth transition of Mining the Iron Ore and transporting it to Port – on such a massive scale with so many moving parts –  is something to behold.
"It's certainly a credit to all involved. The Automation of sections of the operations are both unbelievable and impressive."
C-Res, LBP and the Local BHP Principals of Supply and Community headed up by Shelley, Amber and Luis – enjoy a great Partnership in connecting Local Business and BHP in the Pilbara – it's great to be part of it.
Another highlight of the trip was delivering Local Buying Program Awareness and End User Training sessions across WAIO Port operations to a diverse group of BHP personnel together with BHP LBP Principal Shelley Comtesse.

MADE WELCOME:  The Welcome To Hedland crew, pictured top-left, which represents C-Res, BHP and the Local Buying Program makes adjusting to life in the remote north-west easier for newcomers. 
SMILES AND RED DIRT: John Aurisch (C-Res Business Development Manager) and Amber Warne (BHP Principal Supply Business Partner), pictured bottom-left, take the opportunity to experience the incredible scenery of the region.
HAVING A YARN: J
ohn Aurisch (C-Res Business Development Manager) had the chance to catch up for a conversation about the Local Buying Program with Luis Mandujano (BHP Principal Supply Business Partner). 
---
Bacon, eggs and innovation for breakfast in Newman
Creating Communities, Shire of East Pilbara and BHP hosted the Newman Futures Economy and the Future of Work breakfast at the EDGE on May 22.
Innovation and technology are changing the way we live and work, and with this change comes opportunity.
That was the central message of the event and BHP is working closely with the Shire of East Pilbara and the Newman community to understand and harness these opportunities to generate a vision of what the future of work, training and life will look like in Newman.
The breakfast provided an overview of the Newman Futures project and explored how collaborating with industry, innovators and government to explore how work was changing and how future work and supply chain opportunities could be supported and elevated.
Local Buying Program Business Development Advisor, Georgie McInerney, provided the Creating Communities team with support and connections to Newman Local Buying Program businesses and the morning was well attended with about 25 people representing a wide range of industries hearing about BHP's Innovation Mine from Eli Todd (BHP Principal Innovation) followed by lively conversation to discuss the Newman Futures project between the group.

BRIGHT FUTURES: The Newman Futures Economy and the Future of Work Breakfast was a melting pot of bright ideas, good questions and excellent discussion – and, there was coffee.
---
Upcoming events
10 August | PHCCI Business Awards – Hedland goes to the Hamptons | HEDLAND | EVENT
The movers and shakers of Port Hedland are Hamptons-bound in August for the annual Business of the Year Awards gala event.
Well, maybe not literally headed to the Hamptons, but that is the them of what is always one of the most-anticipated nights on the Hedland calendar.
The Awards formally recognise and reward businesses and individuals who demonstrate exceptional commitment and dedication to their businesses.
The PHCCI Business of the Year Awards celebrate the success of small to medium sized businesses in the Town of Port Hedland.
Often referred to as the "night of nights" for Hedland business, it is held annually to showcase those who demonstrate true enthusiasm, perseverance and drive toward success in their own enterprises, as well as striving to improve and build upon Hedland's growing business environment.
C-Res is proud sponsor this year's awards, with the C-Res Best Business (five to 10 employees) category attracting strong nominations.
We congratulate the finalists in this category:
ITP Pilbara F45 Training Port Hedland Phoenix Security
Training & Event Group Pty Ltd
Dirty Deeds Property Services
Pilbara Copy Service
Congratulations also to the other Local Buying Program suppliers and other local businesses who are finalists in the 2019 Business of the Year award categories.
C-Res and Local Buying Program Western Australia Business Development Advisor, MJ Van Vuuren, will be presenting the awards on the night.
Winners will be announced on the night.
For more information about this Business Event and tickets for the public contact info@phcci.com.au
16 -19 August | Newman 50th Celebrations 1969 -2019 | Newman | Event
Save the date for the Newman 50th Celebrations!
This massive celebration will include the Lions Fortescue Festival and the opening of the Newman Visitor Time Capsule.
While centred on Mount Whaleback and the opening of the BHP railroad, this is only the beginning – and there will be a host of milestones and significant events marked during the weekend!
For more information or to be involved in the town's 50th celebrations contact lisaglitta@gmail.com
July and August | Business Development Training at North Regional TAFE | Training | HEDLAND and TOM PRICE  
The following hort courses and modules will be offered:
Word Introduction – Pundulmurra (South Hedland) 29-30 July
Excel Advanced – Tom Price 8-9 August
For more information call 1300 996 573 or emaiol info@nrtafe.wa.edu.au
---
See what is happening around Australia with LBP
Local Buying Program Highlights (April to June 2019) and FY19 Annual Summaries: