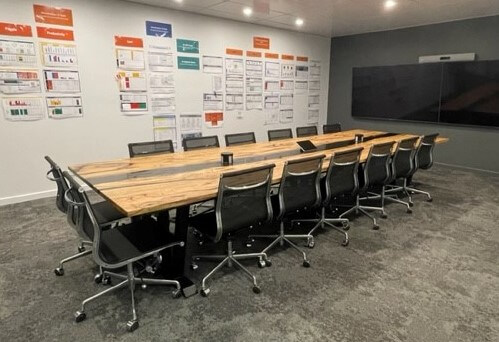 In a display of site and community collaboration, the Kalgoorlie Nickel Smelter Lead Team has worked with a local supplier to introduce a cutting-edge meeting and boardroom – the Centre of Excellence, within the Engineering building. This project not only enhances the facility's capacity to host large gatherings but also integrated a modernized workspace.
Recognising the need for a standout element, the Lead Team brainstormed ideas, ultimately settling on a bold and striking feature – a 4.5m x 1.5m resin river boardroom table to serve as a functional centerpiece but also embodies the spirit of innovation and progress that defines the Kalgoorlie Nickel Smelter.
What sets this table apart is not just its impressive size, but the thoughtful incorporation of practical features. The Lead Team envisioned a space where meetings seamlessly blend with technological convenience. As a result, the resin river table is equipped with power outlets strategically placed for accessibility, catering to the needs of the workforce. Furthermore, it boasts wireless phone charging capabilities, eliminating the need for cumbersome cords and ensuring a clutter-free environment conducive to productivity.
By engaging local businesses in the creation of this innovative space, the Lead Team has not only invested in the community but has also demonstrated the power of collective creativity, showcasing the wealth of talent within the region. This collaborative effort not only contributes to the economic vitality of Kalgoorlie but also reinforces the spirit of unity and progress that defines the local business community.
"The Local Buying Program was really straight forward and a very seamless process from start to finish. The few questions we needed answered were dealt with really quickly which made the setup quick and payment terms can't be beaten especially for a small business.
The support provided by the C-Res team in the way of launching KFD on their platform, with a streamlined process ensures ease of use and potential future business growth, which to us "that's big" said Sam and Haley Knott (Knott Family Designs).