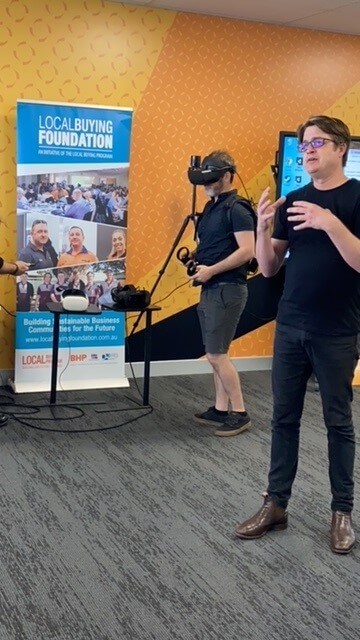 There are many benefits for regional business communities located within BHP's Local Buying Program footprint. One of the greatest benefits is having access to projects and initiatives funded through BHP's Local Buying Foundation, which aims to build on the local capabilities and opportunities for growth in current and emerging industries, by supporting projects and programs which facilitate workforce development, innovation, and the productive capacity of business and industry to grow the potential of their regional economies.
The Local Buying Foundation in Queensland, recently funded the 'Enabling Future Work Skills Project' for the Resource Centre of Excellence (RCoE), Mackay. The Foundation funded this project due to the alignment of the 'Developing the Workforce of the Future' category, which aims to help regional economies to equip themselves with the skills, knowledge and capabilities required to adapt to new economic opportunities as they arise and thrive in a constantly changing environment.
The RCOE and Queensland University of Queensland (QUT) partnered to develop technology experiences and virtual reality (VR) and augmented reality (AR) capabilities for utilisation by coal mine operators, METs, Agriculture, Tourism, and Bio-futures investing in:
Extending automation and remote operation technologies

Enhancing the application of automation within the industries

Automation of maintenance tasks and diagnostics using robotics, drones, and emerging technologies
Improve health and safety of workers
Skills training and assessment for new workers to the industries and re-training of existing workers, in a risk-free environment.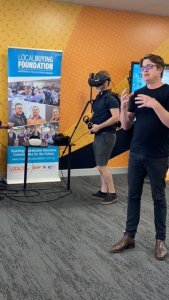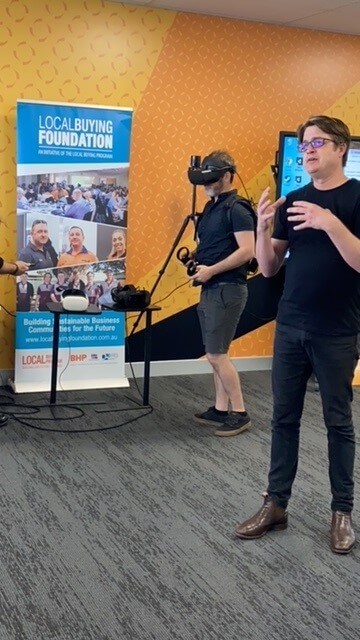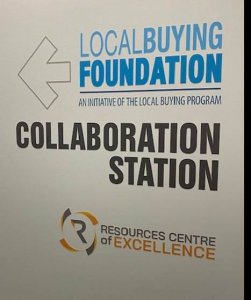 This project installed the cutting edge of digital interactive visualisation technologies and offers these technologies in ways that stand out from the market to offer industry, students, researchers, and educators the 'best of breed' experience.
The RCoE has named the upstairs workspace 'LBF Collaboration Station'. The station consists of 2 training rooms along with shared workspaces. This space has the capability to use technology solutions to provide 'No Risk' training environments for those already engaging in the industries and new workers entering their chosen fields of work.
It's an exciting project for LBF in QLD, all due to the success of BHP's Local Buying Program, which provides a financial contribution directly to the Foundation on each approved work instruction. This project supports the businesses of our regions to build their capabilities and capacity in an ever-changing economic climate.
Watch the short video below on the project, where our LBF Chairman, Melissa Westcott, discusses the value of this project.