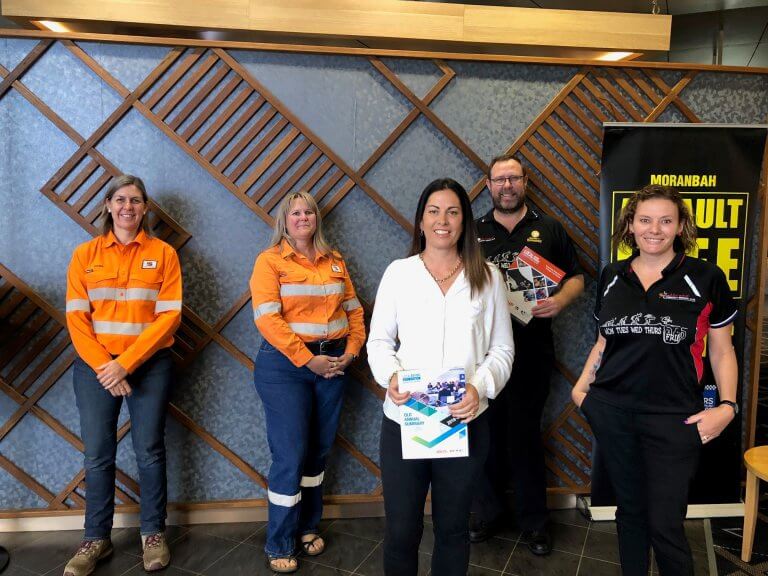 When Dianna Smith heads to events or meetings and takes a photo to capture the moment, she has a giggle to herself remembering her old school days.
"I always remember not wanting to get too close to the boy next to me, and seeing everyone having to stand 1.5 metres apart with social distancing takes me back to those days a bit," the Queensland Business Development Advisor said.
On a more serious side, Dianna said she had found it reassuring, when restrictions were lifted to allow travel within Queensland, that everyone from buyers at BMA, BMC and BHP sites, to suppliers and all stakeholders were taking their responsibility to social distancing seriously.
"Everyone has been really careful, and the COVID-safe planning is very reassuring.
"It's certainly what people are talking about, but even though we have been quite fortunate up here, compared to other parts of the country, the very large majority take it all seriously."
From training, to presentations, cuppas and zoom meetings – Dianna has been on the road across the Bowen Basin and Mackay regions. And she is loving it!
Some of her engagements have included:
In July, the QLD Business Development Advisor met with site champions from Goonyella Riverside and Saraji mines, enabling direct conversations around immediate responses to challenges being faced by buyers.
QLD BDA saw firsthand the continuous skill, training and leadership opportunities BHP provides to our regional employees when visiting the BOS Leaning Centre in Moranbah and the Future Fit Academy in Paget recently.
With businesses adapting to new COVID-19 procedures, QLD BDA was able to recommence visits and check in with suppliers. It's an opportunity to discuss the program success stories and offer advice on how to maximise supply opportunities. First quarter 20/21 saw BDA visits to Dysart, Moranbah and Mackay.
Whether it was via zoom, phone conference or in person, our Qld Local Buying Program Business Development Officer continued to attend meetings with Dysart Business Group and Industry Meeting, Moranbah Traders Association Meeting and the Mackay Region Chamber of Commerce AGM. The Mackay Region Chamber of Commerce AGM and Champions of Industry Evening was held on the 10 September, and proudly sponsored by LBF.
Regular digital platform catch-ups with suppliers and buyers, as well as the broader Business Development team.
With restrictions looking like easing in coming months, the hope is activities and events will start to fill out the diary a little more! We are also seeing awards ceremonies, training and professional development sessions being activated online.
If there is a way to engage, or even just have a yarn about what's happening with a business or a buyer, we will find a way of making it happen – whatever the restrictions!