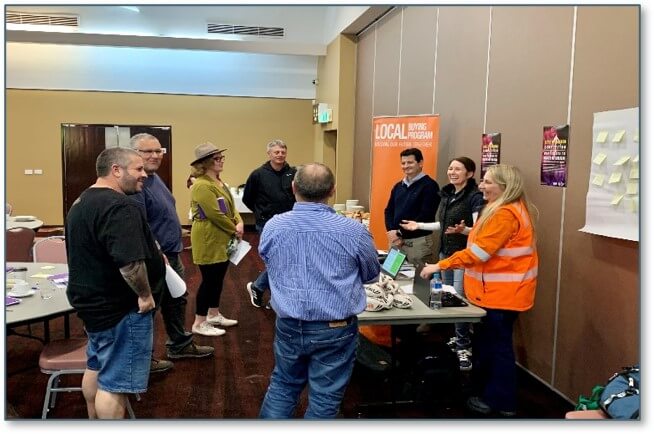 The old saying goes, make hay while the sun shines. Well, if you put that in the context of getting out and about, networking and connecting, you'll come close to what the buzz in Muswellbrook, Singleton, Scone and the whole Mt Arthur Coal and Upper Hunter footprint was like during the past few months. And where there is buzz, there is opportunity.
If there was an event to go to, the people turned up and C-Res Manager – Business Development John Aurisch was sure to be there, flying the flag for C-Res, the Local Buying Program and Local Buying Foundation.
Social distancing was the new black (other than the coal of course!) but talk was all about resilience, supporting businesses and making available every possible opportunity for small local businesses.
A few of the dos which brought John from the confines of his home office included:
Regional chamber and business group events, meetings and web-based activities.
Supplier meetings and engagement opportunities to discuss how better we can support the small local businesses of the region.
Training at site and buyer functions – including a focus on the all-important Request for Quote functionality which can help suppliers really showcase their capacity and capabilities!
Presentations to BHP leadership and emerging leaders, while demonstrating to buyers the incredible social value representative of the Local Buying Program.
Regular digital platform catchups with suppliers and buyers, as well as the broader Business Development team.
"It's good to see people starting to get out and about again," John said.
"Yes, there is social distancing and there have been some very difficult times had by some of our suppliers.
"But the way we see it, BHP has a terrific amount of opportunity which small local businesses can tap into and it is our job, through the LBP, to connect our small business suppliers with that opportunity."
With restrictions looking like easing in coming months, the hope is activities and events will start to fill out the diary a little more! We are also seeing awards ceremonies, training and professional development sessions being activated online!
If there is a way to engage, or even just have a yarn about what's happening with a business or a buyer, we will find a way of making it happen – whatever the restrictions!