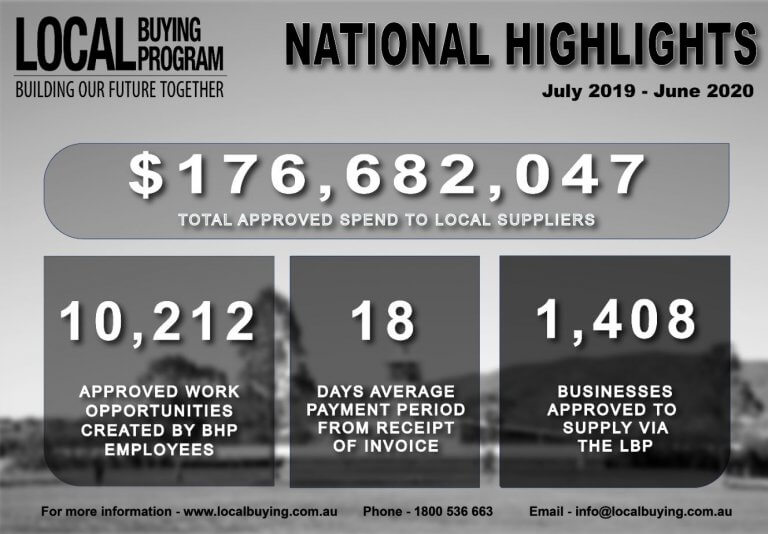 We're with You!

It's the new mindset, motto and modus operandi adopted by C-Res in delivering the Local Buying Program as well as the Local Buying Foundation.

As the curtain fell on the financial year that was FY20, our world and ways of doing business were being challenged in ways not seen in generations. In fact, unprecedented might have become the year's most over-used word, but it is for good reason! The times we are facing are just that.

Amid the job losses, lockdowns and business closures which became symptomatic of a COVID-19 affected economy, there also emerged opportunity and some incredible creativity and innovation.

This was not the disruption anyone expected.

Through the Local Buying Program, BHP and delivery partner C-Res rose to the myriad challenges which were to fast become the new norm. Not only did we rise to the challenge, we grew. Businesses and their cash flow were shored up through an all-stops-pulled approach by BHP and C-Res to making opportunities – and payments – available via the Local Buying Program.

We know many businesses were galvanised by these efforts – as well as the work by organisations which were able to gain funding through the likes of the BHP Vital Resources Fund and the Local Buying Foundation's B.I.G. Futures Fund. However, we also know there were businesses which did not survive, or at best, they are just holding on and hoping they can manage their way through.

Where we can help, or we can make opportunities a reality for these businesses, we are working hard to make that happen. That's how we can look anyone associated with this program in the eye and genuinely tell them, "We're with You!".

That is something we are deeply proud of. So to you, our stakeholders, thank you for the part you have played in making FY20 such a success for the Local Buying Program. We grew. We broke records. We delivered. In spite of the challenges.

We did it together. And we will be right here with you to do it all again this financial year!

Nationally, and from state to state, there were several Key Messages which showed the strength of the Local Buying Program and that of the partnerships which make it happen: 


1. The resilience of The Local Buying Program – and Local Buying Foundation – enabled our prompt and effective response to the sudden and unprecedented challenges presented by COVID-19.

2. The innovation, work-arounds and pivots activated as a response to the pandemic – and ensuing economic downturn – have once again shown the agility and innovation which comes naturally to the small local businesses operating in our BHP and LBP footprints.

3. Distance and state border closures, as well as a ban on international travel, could have caused a high level of disconnect and subsequent disengagement. Instead, the Local Buying Program, C-Res, BHP and Local Buying Foundation, our communities – and countless organisations and businesses – have taken virtual connection to a whole new level and new opportunities for leveraging relationships in the digital space have been reached.

4. Even pre-COVID-19, the Local Buying Program was breaking records and making great things happen. Yes, this was a curve ball in the form of a pandemic, but we rose to the challenge and came out in front. That said, the prudence of a conservative approach to FY21 is in order.