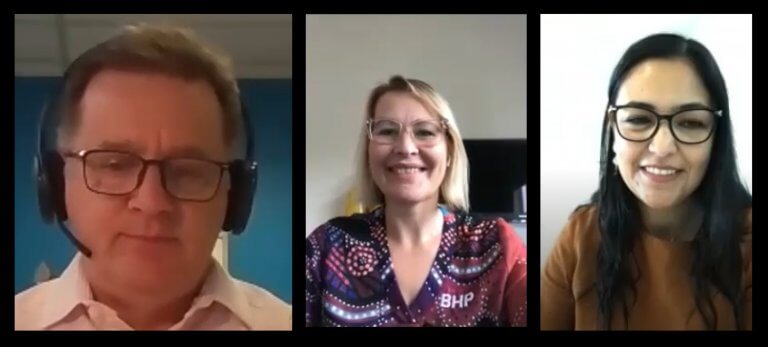 Local Buying Program Suppliers are known to be incredible innovators; many of them leading their sector, the country and, in some cases, the world – from their regional locations.
Tapping into that brains trust, BHP in partnership with Austmine, have launched the Supply Innovation Program.
In true COVID-19 style, the program was launched via webinar and in association with this, the Resource Industry Network (RIN) hosted an Industry Insights Webinar which featured speakers Camila Caceres, Specialist – BHP, Partners Innovation & Community, BHP Manager Jessica Simpson and Robert Trzebski, Chief Operating Officer at Austmine.
The webinar provided an oversight of the Supply Innovation Program BHP had partnered with Austmine to deliver. The program will engage suppliers and implement emerging technologies as part of its Mining Equipment, Technology and Services (METS) Sector Strategy.
The Supplier Innovation Program will deliver a series of engagements that showcase BHP challenges at their Australian operations. METS companies will be invited to attend workshops and briefings, with senior members of BHP's team, to better understand the challenges and formulate solutions. The winning solution will have the opportunity to become a paid pilot program, with the successful supplier working directly with BHP.
This process will provide an avenue for BHP to crowd-course a broad range of unique innovations, while METS companies benefit from easier access to project opportunities and new avenues for collaboration.
The Webinar focused on BHP SUPPLY INNOVATION, a key topic within the Local Buying Program and our METS Suppliers tuned in to listen to the updates and future opportunities.
RIN's webinar series was developed with funding assistance from the Local Buying Foundation – QLD's B.I.G. Futures Funds grant as part of their Digital Engagement Project.
The Supply Innovation Program is also supported by the Local Buying Program and we encourage our suppliers to register their businesses with the program to see what opportunities can be found!