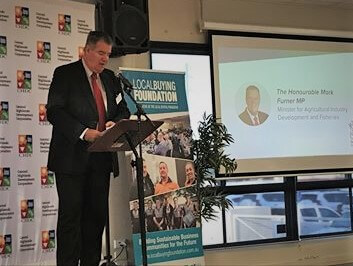 The CHDC Economic Futures Forum is a key business event to note in the calendars each year for businesses in and surrounding the Central Highlands. Always hosting a suite of high calibre speakers, businesses are able to use the forum as an opportunity to both network with other businesses and key stakeholders but also here from professionals on what trends are forming in the economy and what is happening around us that is causing disruption. With the event held early March, the effects of Covid-19 were a hot topic on how this pandemic is influencing international, national and local economy.
Presenters on the day included the Hon. Mark Furner, Minister for Agricultural Industry Development and Fisheries discussing the increase of supply from Central Highlands regions for some key commodities including cotton and beef. Following Mark, was CHDC's Liz Alexander and Peter Dowling launching the Agribusiness Stocktake Snapshot and the Development Register, two exciting projects coming out of CHDC. Qld Treasury Corporation, Michael Anthonisz, gave an economic update on the current state and region, including the regional industry drivers when looking ahead. Annette Smith from Acumentis followed Michael and gave an annual property and valuation update and some of the trending issues for the Central Highlands region for community and businesses to be aware of. The last presenter for the morning was Westpac's Scott Parry, Scott provided a business banking forecast and spoke about some of the key problems businesses are facing, including increase in energy costs and red tape requirements.
Finishing the Business Breakfast off, was a Q&A panel that enabled attendees to discuss key questions, that had come up throughout the event.
The Local Buying Foundation was a platinum partner for this event. It is great to be able to see funding from the LBF, be used for important community events to bring the business community together.