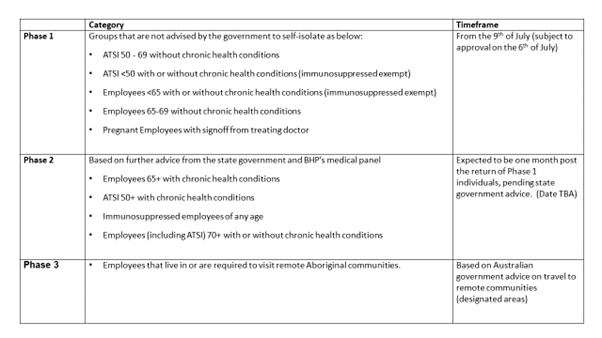 A message from BHP Procurement
Dear supply partner,
Following our last communication earlier this month, we wanted to provide you with an update on the pathway back to site and offices for higher risk workers in our contract workforce.
As we mentioned, the exact timeframe for returning to the workplace is dependent on pathway conditions being satisfied, and this will vary by location.
Pathway back to site/office for higher risk workers
Each step is sequential, and at all times we will be informed by Federal and State government recommendations and BHP's panel of medical experts.
The state government has relaxed restrictions to allow gatherings of 80-100 people (phase 2 or 3 depending on the state).
At least four weeks have passed since step 1, and we have seen no significant increase in community transmission of COVID-19 in the state.
Asset/site leadership endorse higher risk workers returning to workplaces with input from Group Health, Safety and Environment (HSE).
Phased approach of returning employees at higher risk commences in alignment with Federal Government guidance and our panel of medical experts.
At this time and in line with State Government relaxations of COVID-19 restrictions, BHP has developed a plan to return some of our identified higher risk team members back to work.
Western Australia – WAIO, NiW & Petroleum
We are planning for the first group of higher risk workers to have the option to return to the workplace from 9 July.
Under our risk based approach, the return to work of higher risk workers will be phased based on medical advice and government guidance in the relevant jurisdiction. Accordingly, workers who have the option to return from 9 July are those listed in 'Phase 1' in the table pictured. For a visual on how this works, click here!
We're asking our contracting partners to please work with us to:
Evaluate all high risk individuals to determine whether they fall into category 1, 2 or 3 (in order to determine this, please note that a health screen is required if not already completed, as well as any controls required to support a safe return);
Engage with your contract owner/site rep to share this information on category 1, 2 and 3  workers, as well as expected return to work timing; and
Notify your team members who have been identified in the first category of higher risk workers that they can return to work (subject to final confirmation on 6th July) and to discuss what this means for them. Please also advise them that in order to safely return to the workplace, it is a BHP requirement that the health screening process has been completed and they have provided a signed declaration stating this before returning.
We have attached a flow sheet with additional information on the sequence of this return to work process for WA and the requirements of each group to support this. Please take the time to review this to ensure you are clear on the requirements.
Please note that these changes remain subject to a continual downward trend in COVID-19 cases and Government support. We may need to revisit these dates or our controls if there is a spike in cases in the community or confirmed cases within our workforces. The return to work for workers outside Western Australia will also need to consider and comply with prevailing conditions regarding interstate border restrictions.
South Australia, New South Wales & Queensland
At this stage, there is no change to current work arrangements. We are continuing to work through our plans on returning high risk workers in these states to our operations and will provide further communications on this in the near future.
We understand that some people continue to be impacted by the health controls that are in place. If you have any ongoing concerns and/or difficulties relating to these arrangements, please contact your BHP Contract Owner or Site Contact for more information.
Thank you for your cooperation so far – it's critical that we all continue working together to maintain the health and safety of our workforce and prevent the spread of the virus. We will update you again on this matter as the situation changes.
Stay safe,
BHP Procurement