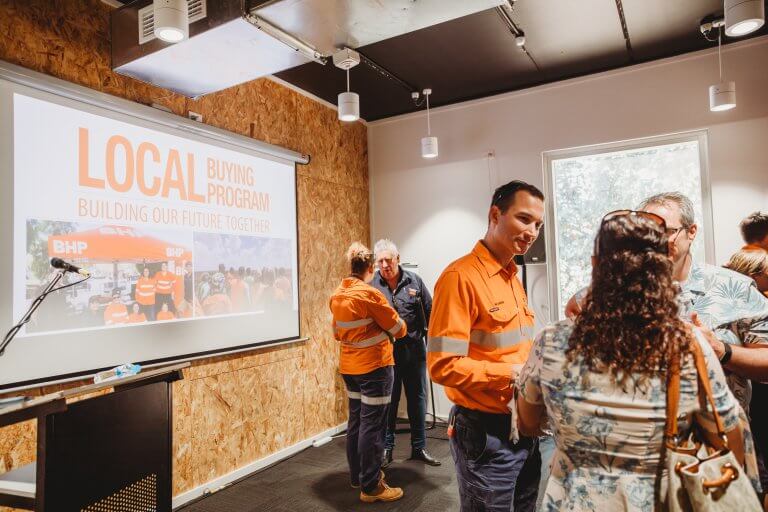 At the heart of the Local Buying Program – in the Pilbara and Australia-wide – is the ability and commitment to bring together local businesses and BHP Buyers in a way that makes doing business simpler and creates real opportunity.
In October, C-Res and BHP hosted two successful Meet the Buyer events in the Pilbara: first, in Port Hedland; then, in partnership with Newman Futures, in Newman.
The events were held with the view to enabling a diverse range of BHP Buyers, along with their major contracting partners, to meet with Local Buying Program Registered Suppliers.
C-Res Newman-based Business Development Advisor (BDA) Georgie McInerney said, through the events, local businesses had an opportunity to speak to a number of procurement staff and other representatives of various BHP departments.
Port Hedland-based BDA Mj Van Vuuren said small business operators registered with the LBP also had the chance to discuss the different solutions their businesses could offer while the team leaders from C-Res and BHP were on hand to listen to feedback from the community.
After the events, a number of business-relevant workshops were held addressing issues such as safety, innovation and marketing.
C-Res Director, Melissa Westcott, explained to the attending businesses how social media could help their business grow beyond the local market, as well as showing trends which were leading small businesses to success.
Both events were hailed a great success, with a number of Local Buying Program suppliers already gaining business from the networks created.
Among them, Scott Orr from Phoenix Security Training & Event Group, said this was a worthwhile investment of time and he expected it yield some longer-term benefits.
"The Meet the Buyers event was very informative and relevant to aligning our business to work alongside BHP," Mr Orr said.
"Being able to chat with the decision makers directly was a huge benefit and we appreciate the time it took to make it happen".