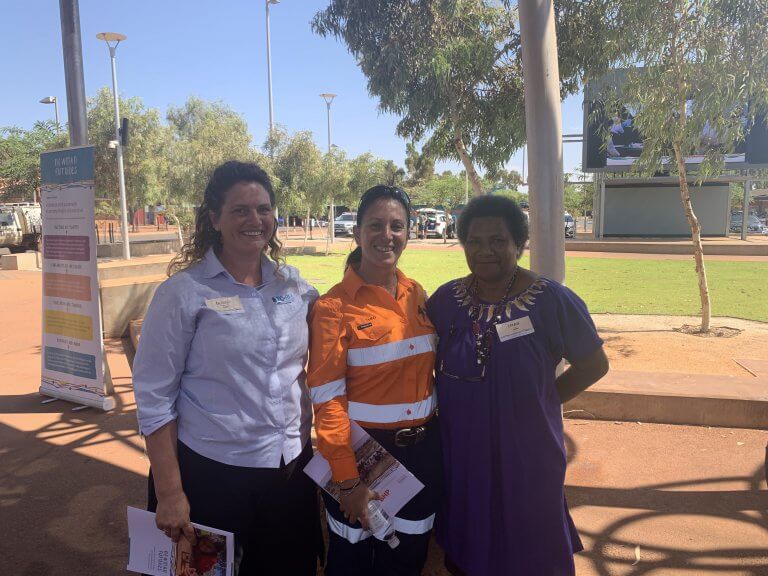 It was breakfast served with a view to opportunity, as innovation and technology project, Newman Futures, was officially launched in The Pilbara in November.
C-Res Business Development Advisor, Georgie McInerney, attended the breakfast launch event at The Edge, Town Square, Newman and was among about 60 community leaders, business people and members of the community who celebrated the occasion.
The project is best summed up in the Newman Futures November Newsletter, as having been initiated by BHP and the Shire of East Pilbara in January 2019, with the aim to explore how innovation and new technologies can be harnessed to  build a secure and prosperous future for everyone in our community.
A diverse group of local community stakeholders, along with BHP, Shire of East Pilbara and Creating Communities shared their part of the Newman Futures journey, to date, and the event enabled people from within the four pathways of Newman Futures (Education & Training, Liveability and Wellbeing, Economy and Work , Culture and Country) to connect and share their experiences.
C-Res is excited to be part of the Economy and Work Pathway.
Georgie said the shared enthusiasm for the program and what it meant for the future of the Newman and greater Eastern Pilbara communities, was exciting to be part of.
She said the ability to network and be part of a collaborative approach would facilitate a secure and prosperous future for everyone in the community.