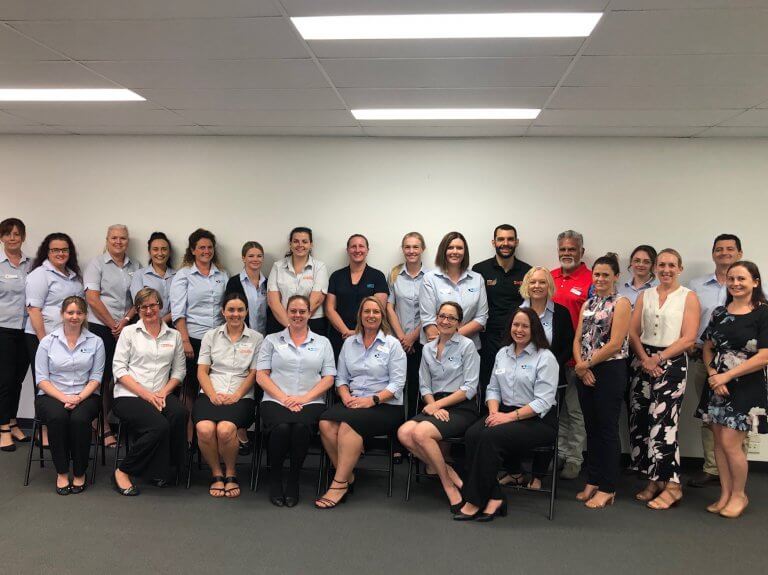 As ends of year go, C-Res' end to 2019 was something of a sprint!
It was a testament to the team, as well as our Local Buying advocates in BHP, that there was still fuel left in the tank to bring the calendar year home in such momentous fashion.
Really, though, we are all passionate about the Local Buying Program and what it means for the regions in which we operate. No surprises there, and as we reflected back upon what we had achieved for our valued suppliers, BHP and stakeholders, even we were a little gobsmacked by the projects, events, organisational changes and levels of growth we had notched up.
As an organisation, C-Res grew to a team of 28-people – with our people scattered from Muswellbrook in NSW to Clermont in Queensland; Roxby Downs in South Australia, Newman in Western Australia, Emerald in Queensland, Perth and Port Hedland in Western Australia and then back to Brisbane and  Mackay in Queensland! We brought on a Leadership Team, the members of which bringing to the table a depth and breadth of experience which has added great value to our business.
We have restructured. We saw founding Board Chairman Kylie Porter step aside to a director's role (still staying on the board), while current director Darryl Camilleri is the new C-Res Chairman. We also welcomed Emily Faure to the team for a short time! Technically, she works for BHP, but as the BHP Supply, Minerals Australia Specialist – Local Buying, Emily has been vital to what we do and although she is about to take on an exciting new role with BHP, and we wish her well, we now look forward to welcoming a new Specialist! .
We saw milestone after milestone. We facilitated and helped guide the replication of the Local Buying Program Model in Chile for BHP Minerals America (and for some of us that also meant we could add learning Spanish to our list of achievements, as well!).
We hosted Meet the Buyer and networking events across our four footprints nationally, giving our buyers and suppliers the chance to engage face to face, learn more about the program and how it can help them, and draw our attention to any challenges or questions they might have had. These events were an incredible success and a testament to our Business Development Advisors – and the strength of their working relationship with BHP and community. They were also a perfect excuse (not that we need one!) for our executive and board team to travel to our regions, meet and engage with the people who live and work in these regions, and better understand their needs from – and expectations of – C-Res, BHP and the Local Buying Program.
In 2019 we also invested in the enhancement and development of key internal and customer-facing platforms, the most visible of which was the relaunch of the LBP Website. Along with continuous improvement and enhancements to the LBP Work Spaces, the Website relaunch was all about making our suppliers' and buyers' experience with the Program as simple as possible. The new site is intuitive, easy to navigate and geared to ensure anyone using the program has the information they need at their fingertips – literally!
With the expansion and growth came an unprecedentedly high throughput for our Program Administration team, but again, the team rose to the challenge. Yes, there were times where, quite honestly, we were struggling to keep up. You know that as well as we do! But the innovative, proactive and strategic approach taken to address this not only enabled an effective response to these challenges, but it gave us the chance to see our teams at their best: driven by their commitment to deliver at the highest standard for our registered buyers and suppliers.
Ensuring our teams have what they need to deliver the highest-grade service to our customers, is a priority for C-Res. As such, our team members – including the Leadership Team – have completed a range of courses and modules throughout the year, while undertaking internal professional development, training and skills updates. And then there are those members of the team who are also studying of their own accord, completing various certificates and degrees at under-and-post graduate levels.
In the community we have continued to honour our commitment to organisations such as R U OK, to make sure the issues of suicide prevention and mental wellness are advocated for. We support R U OK Day annually and as an organisation we are working with the Mackay-based suicide prevention, awareness and education organisation, Grapevine Group to undertake suicide awareness and prevention training.
We have also continued our recognition of our Traditional Owners and Indigenous Businesses. As a team, we undertook Cultural Awareness Training in Mackay last year, and annually we commit to supporting NAIDOC Week and activities throughout our regions, with a real and heartfelt regard for the traditional custodians of the land on which we operate.
In Queensland and New South Wales, via the Local Buying Foundations, we have seen everything from business-development workshops, to community training kitchens; business engagement officers to industry and business awards funded. Although the Foundation is not currently operating in South Australia or Western Australia, the LBP has been prolific in our communities there – with the same focus of building local business' capacity and capabilities. As such, we have funded business awards, supported business development projects and been instrumental in supporting initiatives such as the Roxby Hub in the Olympic Dam footprint of SA and the strengthening of Newman Futures in WA. And, those are just a couple of examples!
In one way, 12 months is a long time, but then again, the year has gone in a flash. It's little wonder when you consider the year that was 2019 for C-Res.
A lot of people ask me whether I could see all of this happening when we started out as a two-person operation in Mackay and Emerald, back in 2012.
The short answer is, not in my wildest dreams!
To see where C-Res and the BHP Local Buying Program is now, where we operate, our commitment to highest-standard service, the maturity of our systems and processes, our team, the number of suppliers and buyers now registered with the system, the number of work opportunities we have released to our communities, and the Approved Spend – is all well beyond what we might have thought possible eight years ago.
BHP's mantra is to Think Big.
That, we do!
2020 is a new year and C-Res is working to our own 2020 Vision! We don't always know what is around the corner, but like last year – and every year before that – we know we can look for, and see, the opportunity those corners, curves in the road and, evidently, trips across the sea, can bring!
That 2020 Vision I referred to has a simple meaning: We look to the needs of our registered buyers and suppliers. In doing that we can see opportunity.
We see the potential; and have the vision to not just "Think Big", but follow through and Act Big, too.