Local Buying Program in South Australia
Highlights for South Australia, 1 July 2018 to 30 June 2019:
$2,494,618 – Approved spend to local suppliers
233 – Approved work opportunities created by BHP employees
89 – Businesses approved to supply via the LBP
12 – Days average payment period from receipt of invoice
For a comprehensive overview of the year that was, including financial results and milestones, see the Local Buying Program's South Australian FY19 Annual Summary.
For more information on the Local Buying Program in South Australia please contact your local C-Res Business Development Advisor, Lauren Crighton, via email lauren.crighton@c-res.com.au or visit our website.
---
Access to training takes expertise to regions
Access Training, a Local Buying Program supplier, has recently opened a new training centre in Port Augusta.
The centre was officially opened by Member for Frome Geoff Brock at their brand-new facility on Augusta Highway in April.  The new facility is expected to enable Access Training to increase training courses to cater for the training needs of a diverse range of growing industries in the region.
This brings a benefit to small and large businesses throughout the region as it minimises the cost of training by eliminating the need to transport and accommodate staff in Adelaide – and that is why the new centre is so closely aligned with the values and focus of the Local Buying Program.
Keep watching this space! C-Res will be advertising upcoming courses in our BD Listing released to all suppliers, stakeholders and BHP at the start of  each month for Access Training as well as other training organisations in Roxby Downs and Upper Spencer Gulf.
Well done to Access Training for developing your business capability!

SKILLS SET: Celebrating the new level of access to training in the region are Raymond Martin (Account Manager, Access Hire Australia), Shane Packard (Director Rossigns Multiprint) and Megan Collins (Rossigns Multiprint). 
IN SESSION:  Visitors to the Access Training facility were given an overview of the centre's facilities and offerings as well as the benefits of the broader region.
NETWORK: Mandy Jordon (Regional Manager ATC) and Hon Geoff Brock (Member for Frome) welcomed the opportunities expected to come from the newly-expanded training facility.
---
Racking supplier makes BHP a palatable deal
Local Buying Program supplier, Roxby Engineering and Fabrication have just completed pallet racking inspection work in the warehouses on the Olympic Dam site.
The work was awarded via a competitive request for quote process through the LBP platform and the project is expected to provide a reputational benefit for BHP by supporting local communities via the LBP, along with small business benefits from quicker payment terms.
Sourcing Roxby Engineering and Fabrication for this job meant a local contractor had the chance to benefit from the Local Buying Program, ensuring a cost-effective, innovative and time-effective solution. It also illustrated the availability of skills, experience and resources in the local area – all of which were of a first-grade quality.
While these factors all rate highly in terms of convenience, even more importantly is the fact BHP could be assured their compliance with Australian Standards, and commitment to safety was upheld and all expectations were exceeded.
This is no mean feat given there were more than 330 bays requiring inspection – all of which were completed on time, within budget and the benefits were felt by a local business in the local Roxby Downs Community.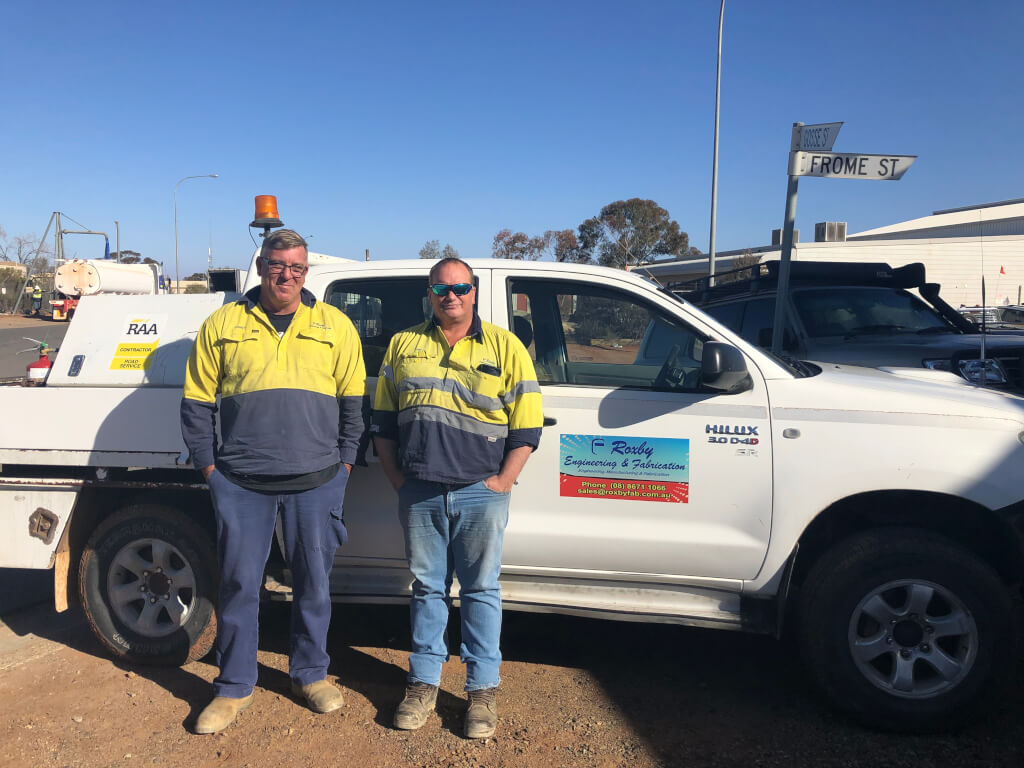 ROXBY OPPORTUNITY: Corey Kruger (Supervisor, Roxby Engineering & Fabrication) and Pat Williams (Supervisor, Roxby Engineering & Fabrication) used the Local Buying Program as a chance to find a solution for BHP that wasn't just 'off the rack'.
---
LBP buyer training update – training session at PAT Centre
There is nothing like hearing something first hand when you want to know all about it!
That's why the Local Buying Program's Lauren Chighton is always available for training, information sessions and even just a casual chat to help you make the most of your LBP registration.
With sessions held at the PAT Centre for our valued BHP Buyers, on a regular basis, there is always a chance for you to check the diary and find a time that suits you.
So, make the most of the opportunities available through the LBP. Give Lauren a call.
Suppliers aren't forgotten about, either, of course!
Lauren is on hand and always only ever a phone call away to help with your queries.
Regular Drop-In sessions are also held locally, helping to connect Suppliers with our Buyers and keep everyone in the Local Buying Program up to date with every new development.
Watch your email inbox and your Workspace for the latest information – or  just give Lauren a call on 0437 993180.

---
Conference bridges the gulf between small business and the big end of town
The Local Buying Program and BHP are proud to be part of this year's 15th Golbal Maintenance Upper Spencer Gulf Conference and Trade expo, at Port Pirie.
The event, which follows previous sold-out events in Whyalla 2017 and Port Augusta 2018, will showcase the innovations and opportunities being nurtured in the region.
The conference will give participants the chance to gather industry information and develop strong business relationships.
C-Res – in partnership with Global Maintenance USG (GMUSG), an industry owned cluster of suppliers mostly from the Upper Spencer Gulf of South Australia – partner to deliver the Local Buying Program for BHP in South Australia.
People in business and industry throughout the Upper Spencer Gulf and surrounding regions are invited to join in connecting, strengthening and renewing business relationships.
A diverse and varied collection of industry representatives -with the latest trade and technological advances in South Australia – will be on hand to check out, throughout the expo.
LBP suppliers are reminded that they qualify for an affiliate discount, so please contact Lauren Crighton, C-Res Business Engagement Advisor for your discount code here.

OPPORTUNITY: After sold out conferences in Whyalla and Port Augusta in previous years, this year's Upper Spencer Gulf Conference and Trade Expo, to be held in Port Pirie, is expected to offer participants a chance to gain information and do plenty of networking.
---
Projects and events set regional SA on path to growth
A new $100 million state-of-the-art secondary school will be built in Whyalla to accommodate up to 1500 students in Years seven to 12.
The new school, which will support the communities of Whyalla and surrounds, will be located on Nicolson Avenue in Whyalla Norrie between the UniSA and TAFE campuses.
The collection of facilities will form an education precinct to provide students with strong links to further study and vocational options.
South Australia is leading the way in renewable solar energy projects with investments in Port Augusta 150MW solar thermal power plant. This is said to be one of the largest of its kind in the world!
Find out more about the Solar Reserve "Aurora" project.
There are also plans to build a 330MW solar generation farm in the Riverland with a 100MW battery storage.
Find out more about the Riverland Solar Storage project.
Development approval for the Port Augusta Renewable Energy Park has been received and was announced by DP Energy in 2016. The park will be one of the largest hybrid renewable energy projects in the southern hemisphere, consisting of 59 wind turbines and almost 400 hectares of solar photovoltaic (PV) panels with a combined generation capacity of 375 MW.
Find out more about Port Augusta Energy Park
Other projects include:
Bungala Solar Power near Port Augusta (up to 300 MW)
Port Augusta Solar (100 MW solar thermal plant with graphite block energy storage)
Tailem Bend Solar Project (100 MW).

Upcoming events
3 August | BHP Roxby Downs Outback Cup | ROXBY DOWNS

The Race Club is proud to host an annual horse race event for all residents in the Roxby Downs and surrounding areas. We also receive large numbers of visitors from the Spencer Gulf region and Adelaide metropolitan each year with several people also coming from interstate. This event includes a Calcutta evening on Friday 2nd August and the following day, 3rd August, the annual Roxby Downs Races.

7 August | Retail and Commercial Leasing for Small Business | ADELAIDE

This free information session will guide tenants through their rights and obligations under the Retail and Commercial Leases Act 1995 as well as provide some essential information on the key requirements of a lease agreement.

20-22 August | 15th GMUSG Conference & Trade Expo 2019 | PORT PIRIE

Don't miss this chance to gather crucial market information; develop your networks; and promote your business. Join us at the 15th GMUSG Conference and Trade Expo Hosted in the Upper Spencer Gulf region. This year's event, in Port Pirie, builds on the highly successful sold out 2018 event in Port Augusta.

21 August | Small Business: Disrupt or Be Disrupted | ADELAIDE

Presented by Andrew Leunig, Business Architect and Coach, this information session will provide you with information on how to adapt and challenge yourself.

Attend in person or via online webinar.

19 September | What is Your Business Worth? | ADELAIDE

How to prepare your business for sale and maximise your returns. Presented by Shweta Tripathi, Business Broker, Finn Franchise Brokers.

Attend in person or via online webinar.
---
See what is happening around Australia with LBP
Local Buying Program Highlights (April to June 2019) and FY19 Annual Summaries: