Local Buying Program in South Australia
Highlights for South Australia, 1 July 2018 to 31 March 2019:
$2,267,266 – Approved spend to local suppliers
198 – Approved work opportunities created by BHP employees
84 – Businesses approved to supply via the LBP
12.2 – Day average payment period from receipt of invoice
See South Australia year to date financial results here.
For more information on the Local Buying Program in South Australia please contact your local C-Res Business Engagement Advisor, Lauren Crighton, via email lauren.crighton@c-res.com.au or visit our website.
---
LBP presentation at social networking event in Roxby Downs
The Local Buying Program had the opportunity to present and help spread the word about their great suppliers and buyers at local networking event, Flamingle, in March.
Hosted by local business, Yellow Cake Creative, the event gave the businesses of Roxby Downs a chance to network in a fun environment and many of the attendees were home business owners – so it helped cut through the issues of isolation that often comes from working from home.
The vibrancy and versatility of the Roxby Downs community shone through, making it an ideal target audience for the program's message.
The event also gave business owners a taste of speed networking, where groups had ten minutes of discussion before moving onto the next group, which organisers hailed a huge success.
Like speed dating, only without the awkward small talk and butterflies, businesses had a chance to get to know each other, connect and share ideas.

Images – LEFT: Flamingle Networking Event.  RIGHT: Lauren Crighton (Business Engagement Advisor, C-Res).
---
BHP Supply visits LBP suppliers
BHP Supply principal Paula Merino has been taking to the streets of Roxby Downs to meet, and get to know some of the region's Local Buying Program suppliers.
The visits gave Ms Merino the opportunity to meet and talk to suppliers, offering a BHP perspective and answer questions about the Local Buying Program and BHP.
Suppliers also took the opportunity to provide feedback on how the LBP was working for them which also gave Ms Merino a first-hand understanding of suppliers, their capabilities, capacities, and areas of expertise.
Ms Merino said BHP was committed to supporting local communities, driving regional economic development and creating shared value by reinforcing long-term, tangible and sustainable relationships built on trust and respect.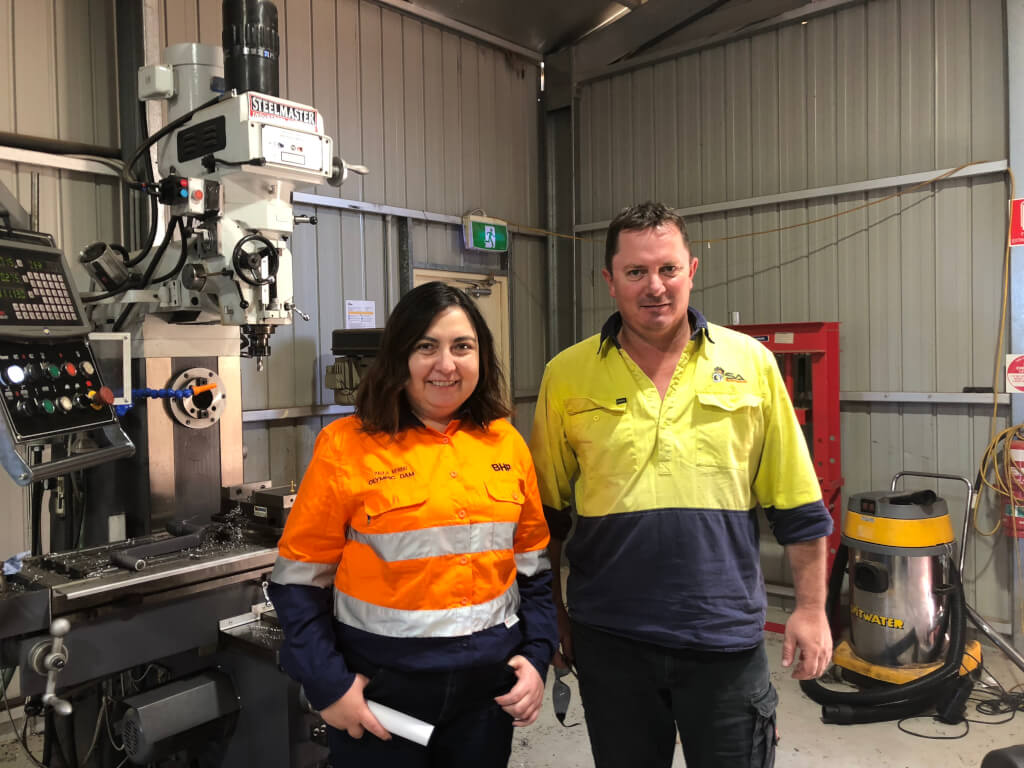 Image: Paula Merino (Principal Supply, BHP) and Nathan Sellar (Director, SA Engineering).
---
LBP buyer training update – training session at PAT Centre
A Local Buying Program training session was held on January 31 at the Olympic Dam PAT Centre.
The training helped raise awareness and boost visibility of the Local Buying Program across Olympic Dam operations, by providing training and information to our BHP buyers.
To register interest in a training session, either in a group or individually, contact Lauren, SA LBP Business Engagement Advisor at lauren.crighton@c-res.com.au. She will gladly answer any questions you have about using the Local Buying Program and how it supports our local business community.

---
GMUSG partnership in South Australia
C-Res has proudly entered into a strategic partnership with Global Maintenance Upper Spencer Gulf (GMUSG) to provide support to our Local Buy Program suppliers based in the Upper Spencer region.
The LBP is committed to providing business support essential to building the capacity and capabilities of locally-owned small businesses in eligible regions.
Additionally, the program is dedicated to promoting, encouraging and supporting business development opportunities via local business chambers, the GMUSG and industry groups.
The partnership with GMUSG aims to facilitate engagement with local businesses in the Upper Spencer Gulf region and it has already proven successful in sourcing and expanding the local supplier network.
As such suppliers are now better equipped to provide goods and services in alignment with BHP operational requirements.
C-Res and GMUSG are continuing to work alongside the local business community to identify and grow opportunities. GMUSG manager Mark Malcolm brings extensive experience to the partnership.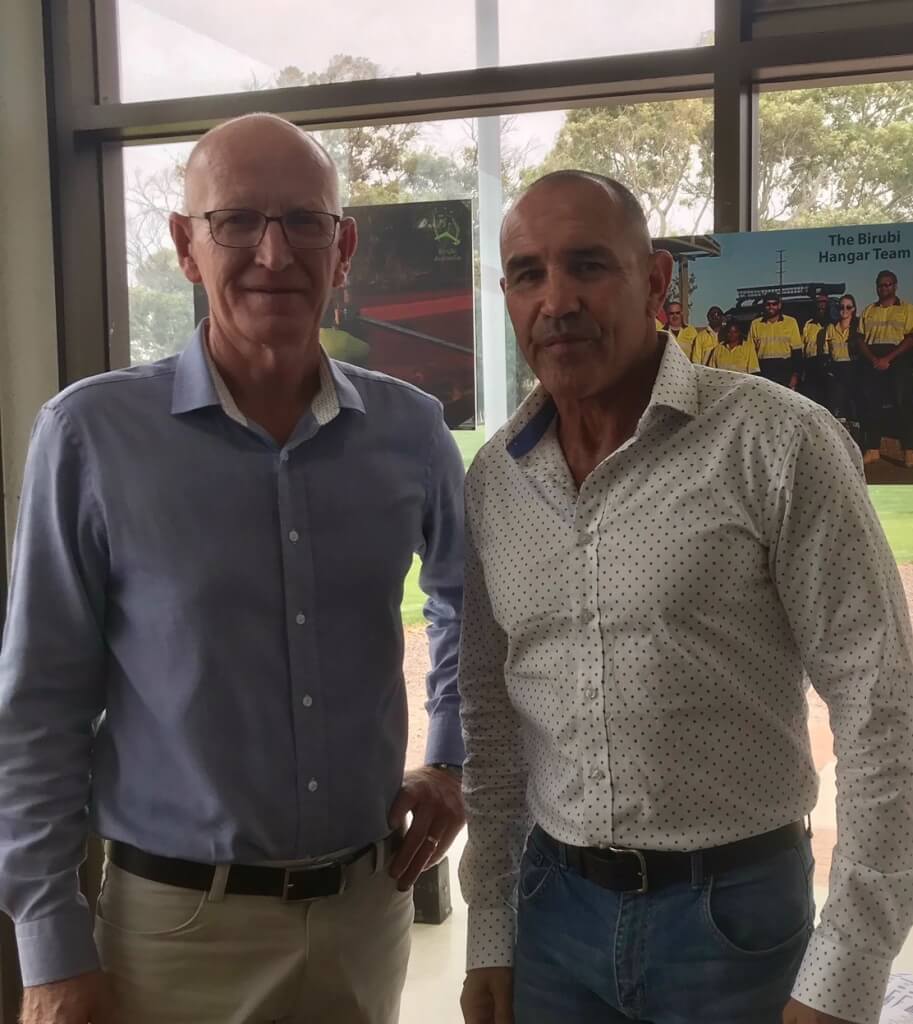 Image: Mark Malcolm (Manager, GMUSG) and David Liddiard (Director, Birubi Australia).
---
Upcoming events
11 May, 9.00am – 1.00pm | Happy Healthy Expo | ROXBY DOWNS

This is a health awareness event for the whole community, hosted at the Roxby Downs Youth Centre and surrounds. Featuring celebrity chef, Bree May, face painting, stalls, health demos and much more.
15 May, 5.30pm – 7.00pm | Understanding Employee Entitlements | ADELAIDE

As a small business owner, understanding and correctly providing employee entitlements can avoid unwanted financial stress and minimise the risks of contravening the various legal obligations that apply to your business. Recent changes to the law provide new rights for employees in relation to their entitlements. Employers must ensure they are up to date with their legal obligations.

This free information session presented by John Love, Partner at EMA Legal, will cover the important facts about the range of employee entitlements that apply in your business.

Attend in person and via online webinar
19 May, 8.30am | The Gateway Market | PORT AUGUSTA
The Gateway Market held at Coles Shopping Centre undercover parking area. Enjoy a variety of stalls, crafts, food and more.
More information
23 – 24 May | SA Regional Development Conference 2019 | ADELAIDE
This year's Regional Development Conference and Dinner is presented by Regional Development South Australia, showcasing innovation along the value chain at the exciting new The Bend Motorsport Park facility.
---
See what is happening around Australia with LBP
Local Buying Program Highlights (January to March 2019) and Financial Year to Date Summaries: