Local Buying Program in Queensland
Highlights for Queensland, 1 July 2018 to 30 September 2018:
$21,832,610 

– Approved spend to local Suppliers

1,742 – Approved work opportunities created by BHP employees
566 – Businesses approved to supply via the LBP
17.5 – Day average payment period from receipt of invoice
See results for FY18/19 in Queensland here. 
For more information on the Local Buying Program in Queensland please contact  your local C-Res Business Engagement Advisor, Jessie Appleton, via email jessie.appleton@c-res.com.au  or visit our website.
---
We Extend a Warm Welcome to New C-Res Team Members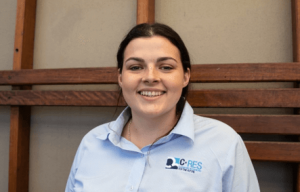 It is with great please that we announce Jessie Appleton has joined the C-Res team as our Business Engagement Advisor, assisting with the delivery of the Local Buying Program in Queensland.
This role will provide valuable support to local businesses and site personnel with all matters relating to new business registrations, supporting existing registered businesses and assisting BHP employees with Supplier and Program enquiries.
Jessie will be based in Clermont and will be regularly travelling across Mackay, Isaac and Central Highlands Regions engaging with small businesses and BMA/BMC operations. As an Isaac local, Jessie has worked in the region for the past eight years and looks forward to engaging with the small businesses across the three regions.  Jessie can be reached via 0419 571 411 or jessie.appleton@c-res.com.au.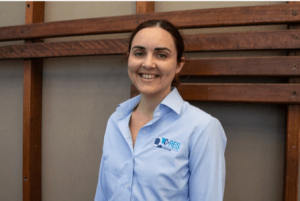 We would also like to introduce Kristen Pinnington, who has joined the C-Res team as our Administration/Program Assistant. Kristen started in early October and has already been a great support to our C-Res team, LBP Suppliers and LBP Users in Queensland.
Kristen brings a wealth of admin experience to the role and is looking forward to supporting local businesses and assisting Jessie with business compliances.  Kirsten can be contacted via email kristen.pinnington@c-res.com.au.
---
Bright Light for Underground Mining 
BMA Broadmeadow noticed a hazard in their underground working environment and from the help of a Local Buying Program supplier they were able to effectively solve the issue.
Using their innovation skills East West Lighting were able to solve this problem by using their Link N Light product, an integrated LED Light and Cabling System.
Following a successful trial of the Link N Light system in key operational areas, further work instructions have been raised to install the system across the whole install face.
The benefits that this new lighting system has brought have far outweighed the minimal cost of install.
This is another story highlighting how important innovative local businesses are to BMA and BMC.
---
Queensland Mining and Engineering Exhibition (QME)
QME staged the largest mining event in Queensland, while celebrating its 25th Anniversary this year, with a brilliant line-up of trade exhibits, networking opportunities, mining industry experts and government officials in attendance.  The C-Res team spent a busy 3 days working alongside BHP at the event and thoroughly enjoyed the opportunity to provide information on the Local Buying Program and discuss the many benefits to be gained by suppliers and sites when using the Program.  Additionally, the team were on hand to provide assistance by answering questions on eligibility and to help with any Supplier enquiries. 
The mining industry converged in Mackay to produce an impressive line-up of displays delivered by some 230 suppliers.  Exhibitors showcased thousands of products and services in addition to the new technologies which are shaping mining's next horizon. 
The QME Seminar Series featured a full event schedule of esteemed industry leaders and representatives delivering presentations and panel discussions on a wide variety of topics including the pathway forward for the mining and METS sector, industry growth, funding opportunities, technology and innovative new products. 
---
Upcoming Events
Master Your Marketing – Mackay, Moranbah, Emerald
29th Oct – 15th Nov
Concept Consulting are presenting Small Business Marketing Development and Mentoring workshops to assist small businesses across the Central Highlands, Isaac and Mackay regions with increasing essential marketing skills.
Excel Basics and Advanced Courses – EMERALD
6th – 7th November
Microsoft Excel Essentials and Advanced training done by industry professionals who create an interactive and easy to learn environment for all attendees.
Winning the War for Talent – Mackay
16th November 8am – 1pm
Learn how to build a remarkable workplace and retain high-performing employees in this half day masterclass.
Personal Branding for your Career Success – MACKAY
26 November 11.30am
Join the Resource Industry Network for a business lunch featuring guest speaker Jane Anderson and learn how to build your personal brand.
---

Local Buying Foundation Thinks Big in 2018/2019
LBF Initiatives:
Bridging the Boundaries: Business Facilitator Program was announced in Emerald and Moranbah being for the Foundations' strategic initiative with Central Highlands Development Corporation (CHDC) and Greater Whitsunday Alliance (GW3). The project announcement equates to over $1 Million over three years providing business facilitator resources to build the capability of small businesses in both Central Highlands and Isaac business communities. CHDC and GW3 have completed recruitment for the Business Facilitators with the following successful appointments:
Vicki Leeson – CHDC, Business Facilitator (Full time)
Prue Lonergan – GW3 Business Support Facilitation Officer (BSFO) (Part Time) Commencing in October and 0.6 from December 2018, located in Clermont
Jessie Appleton – C-Res BEA and GW3 BSFO (Full time: split is 0.6 C-Res BEA and 0.4 GW3 BSFO from December 2018) located in Clermont. Jessie will support Prue Lonergan.
The Foundation Project Officer will continue to work with GW3 to progress research into the Mackay region for this initiative.
LBF Project Updates:
92 Projects have been approved by the Local Buying Foundation Advisory Committee since inception, amounting to $2,078,538 which supports activities building the capability and capacity in the Central Highlands, Isaac and Mackay local government areas.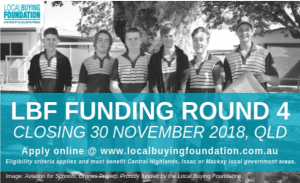 Funding applications are currently being requested and close 30 November 2018. To apply, visit www.localbuyingfoundation.com.au or schedule a call back meeting with our Project Officer to discuss your idea now.
---
LBF SPONSORED EVENTS COMING UP:
The Power of Leadership Business Lunch event has been supported by the Foundation with Resource Industry Network collaborating with Mackay Regional Council in hosting a business lunch event, Monday 26 November 2018. To register to attend this business lunch, visit http://www.resourceindustrynetwork.org.au/.
Aims of the Event:
RIN has been able to secure Jane Andersen. This will be a business lunch not to be missed by the Mackay community as Jane delivers an inspirational keynote address and shares with the audience valuable learnings for professional development, successful leadership and an inclusive workplace.
LBF ROUND 3 FUNDING APPROVALS:
Funding approved for the following applications: Tap into Tenders 2018-2020 (CHDC); Winning the War on Talent workshop (MRCOC) and Future Food & Fibre Conference 2019 (CHRRUP).
---
Bowen Basin Business Development Initiative 
The Bowen Basin Business Development Initiative (BBBDI) Strategy 2018 – 2019 is now available by visiting www.bbbdi.com.au.
The BBBDI Strategy provides a framework for organisations and key stakeholders to assist in the planning and delivery of business development activities.
The Local Buying Foundation is proud to support the release of the strategy as it is a critical document utilised by the Local Buying Foundation Advisory Committee with assessing funding applications for future projects and events.
---
See What is Happening Around Australia with LBP
July to September Highlights and Financial Year to Date Summaries of the Local Buying Program.
Queensland Highlights    New South Wales Highlights   South Australia Highlights    Western Australia Highlights