Local Buying Program in Queensland
Highlights for Queensland, 1 July 2018 to 31 March 2019:
$68,692,703 – Approved spend to local suppliers
5,037 – Approved work opportunities created by BHP employees
898 – Businesses approved to supply via the LBP
17.4 – Day average payment period from receipt of invoice
See Queensland year to date financial results here.
For more information on the Local Buying Program in Queensland please contact your local C-Res Business Engagement Advisor, Jessie Appleton, via email jessie.appleton@c-res.com.au  or visit our website.
---
BMA Saraji boosts Dysart spirit
Home to both BMA Saraji Mine, and an energetic and robust small business community, what the town of Dysart lacks in size, it makes up for in community spirit. Work done for BMA and BMC, by the town's suppliers, through the Local Buying Program, has consistently and considerably boosted the local economy and overall businesses confidence.
This work covered a wide range of goods and services with small businesses in Dysart adapting to the mine's requirements and offering the services BMA Saraji needs. BMA Saraji Mine General Manager, Keith Hailey, spoke highly of the Local Buying Program and the local Dysart business community.
"I really like the Local Buying Program," Mr Hailey said.
"It is good for the mine, and good for the community.  Our employees live in the community and enjoy having these suppliers in town.
"We can help by supporting these local businesses and that helps our employees and helps the town.  Buying from them makes sense, and often times improves the delivery response for the mine.
"I always appreciate having these businesses here in Dysart and providing necessities for our workers that live here."
BMA Saraji Mine Executive Assistant – and star buyer for the Local Buying Program – Sandy Rogers, also added her belief in the program.
"C-Res and the LBP has provided a one-stop shop for everything we need to order for the mine through general supplies, catering, equipment and other services, including the contribution to external events supporting our local community," Ms Rogers said.
"Having C-Res setup for daily ordering of goods or services is a valuable and efficient tool for the purchaser and the supplier".
BMA Saraji has used the Local Buying Program to support local Dysart businesses, offer incentives to our employees and contractors through the Safety Voucher Program now with 23 local suppliers included.  Contributions to community events through the LBP have included Australia Day, ANZAC day, International Women's Day, WIMARQ events, Dysart Community End of Year Party, Dysart Lifestyle Centre through employee gym membership, contributing to community equipment repairs, the apprenticeship program also supporting high school students with events held for the BMA Trade Camp and Engineering Challenge.
With the Dysart Business Group also recently restarting, businesses in the Dysart community are excited for what the future holds for their business and their community.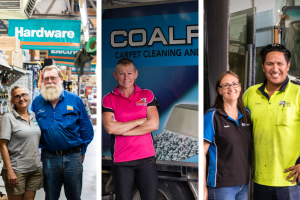 Images: Left: John and Marina Crooks from Dysart Harware; Centre: Bridget Kidkaff from Coalfields Carpet Cleaner and Pest Control; Right: Cassy Campbell and Stephen Wallace of Ardik Glass.
---
Indigenous supplier klaws its way to success

Mackay-based indigenous business, iCutter Industries, has created a niche in its market – and a solid position on the Local Buying Program list of suppliers – by refurbishing worn klaw bits. The bits are a component of drilling machinery.
Since this first Work Instruction in December, the supplier now has two other Work Instructions in progress.
BHP also benefited from the use of this LBP supplier by receiving a service which not only significantly minimises costs, but also recycles products.
Mr McCulkin was impressed. He said the responsiveness of the local supplier was second to none, and results from the refurbishments were as good, if not better than new.
Image: Local suppliers iCutter Industries, klaw bits.
---
Matilda Internet waltzes through demand for iPads  
When you think of mining, the first thing that comes to mind is not usually iPads.
But local Mackay supplier, Matilda Internet, has been a supplier of iPads to BMA and BMC since registering for the Local Buying Program in 2016.
This success comes from supplying iPads across nine different sites – and the supplier has seen a range of request for quote Work Instructions.
Mr Cuzzilla commended the sophistication of the program and the way it has been run.
"Having businesses in North Queensland and the Northern Territory previously,  and being involved with their community/mining local buy initiatives, I am very grateful for the Local Buying Program," Mr Cuzzilla said.
"This is the best program I have been a part of for local procurement and community engagement."
Using the request for quote function, BHP was able to achieve competitive pricing for their goods.
As a supplier that has continually offered competitive prices, Matilda Internet has built a trusted relationship with BMA/BMC buyers, via the LBP.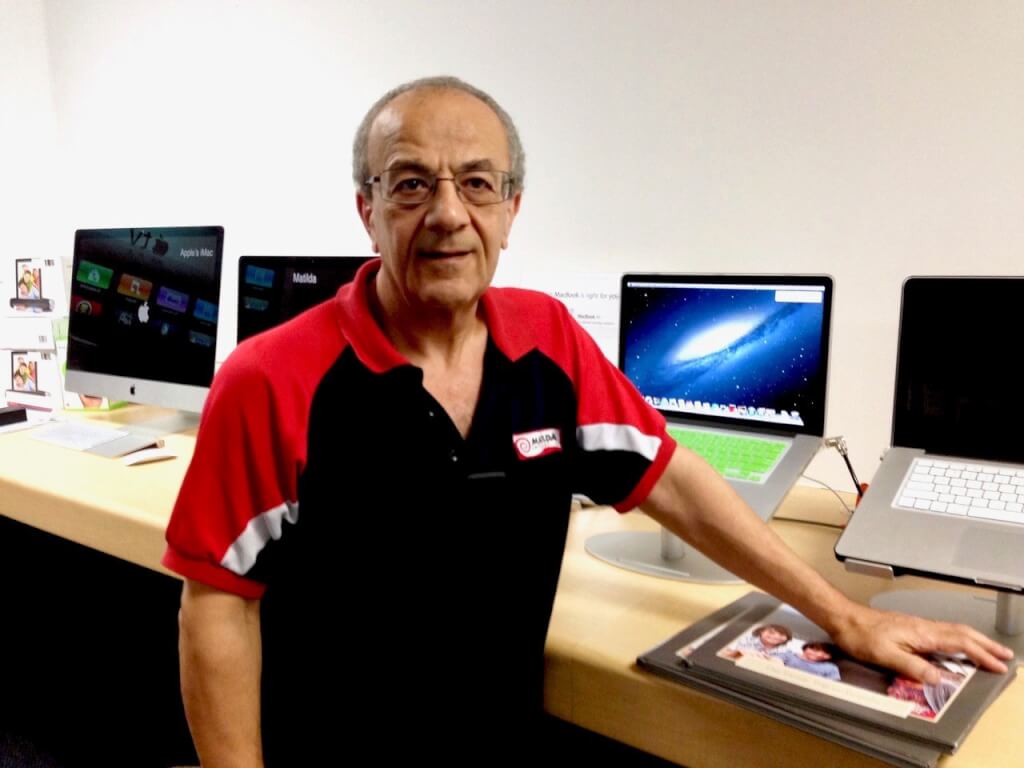 Image: Leon Cuzzilla (Matilda Internet Owner/Manager).
---
New connection buoys buyer-supplier relationship
C-Res Project Officer, Meike Hamilton, will have sharpened insight to the needs of BHP buyers as she now strikes a new balance in her role  as Local Buying Program coordinator, with two days a week in the Brisbane BHP office.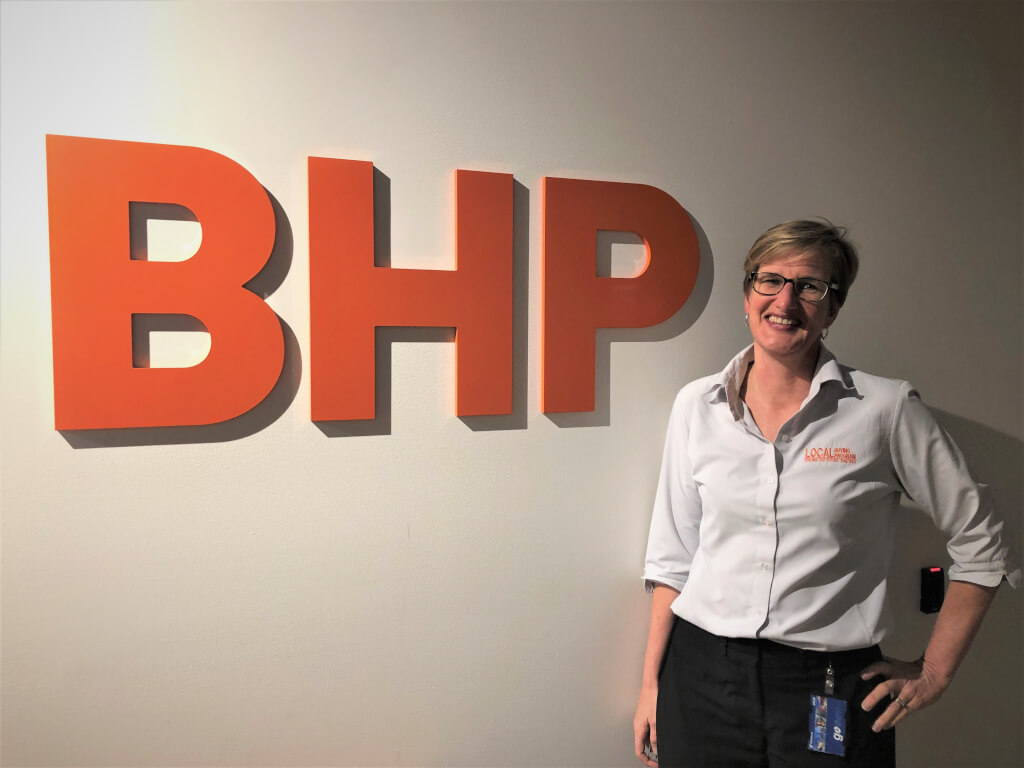 Being both a C-Res and BHP employee, BHP buyers will see more opportunities to readily gain the support they need from the Local Buying Program.
Key benefits expected to come from the change include additional support and a stronger conduit between the program and BHP.
Ms Hamilton said this would activate a greater ability to deliver face-to-face training in Brisbane – or facilitate delivery of training via regional Business Engagement Advisors or Webex, and the facilitation of onboarding local businesses across Australia.
Ms Hamilton's role will support existing BHP staff in the BHP Minerals Australia supply, communities and strategies team.
If you would like to catch Meike in her BHP role, you can usually find her on Tuesdays and Thursdays, located on level twelve at the BHP Brisbane office.     
---
Upcoming events
14 – 15 May and 10 – 11 June, 8.00am – 1.00pm | CHDC Business Workshops | EMERALD

The Central Highlands Business Excellence Awards will be hosting business workshops for local businesses. May and June workshops will address MYOB, Quickbooks and Xero. These accounting software workshops are suited for businesses new to the software and also for people needing refreshers in the programs. One of the Xero workshops will also cover advanced Xero training.

More information

14 May, 9.00am – 1.00pm | QTIC Digital Ready – Online Review & Reputation Management | MACKAY

The Digital Ready program is available to all Queensland-based tourism businesses, focusing specifically on reputation management, The session includes why reviews are important to customers and drive business outcomes, how to increase reviews, what your customers expect, dealing with negative comments, and responding to customers.
15 May, 4.00pm – 6.00pm | #ThinkAboutIt Workshop | MACKAY
This CQUni workshop will unpack social issues through real-world case studies existing in the community. Delivered interactively, it is designed to challenge you to increase your awareness on a range of social issues, think about your individual impact and take actions that lead to positive social outcomes and change.
More information
17 May, 6.00pm – 10.00pm | RIN Awards 2019 | MACKAY
The 2019 RIN Awards Gala Dinner will celebrate people, innovation and success in the resource services sector, with a focus on the Bowen Basin region. Don't miss this fantastic night of excellent company, delicious food and terrific entertainment!
23 May, 9.00am – 1.00pm | QTIC Digital Ready – Maximising Facebook | MACKAY
The Digital Ready program is available to all tourism businesses across Queensland. The latest installment in the series of programs centres on maximising Facebook and it covers subjects including the benefits of social media, its functions and features; creating quality content, advertising on Facebook, and copyright.
27-31 May, | Isaac Small Business Week | ISAAC
GW3, along with the Isaac Regional Council and Isaac business groups, have devised a plan for Small Business Week to cover a wide range of events and workshops to encourage business skills development and creating resilient businesses. GW3 will hold networking events in Dysart, Clermont, Nebo and Moranbah. The council will also hold workshops covering a range of topics including human resources, single touch payment, social media marketing, tendering and many more.
More information
21 June, | Central Highlands Business Excellence Awards | CENTRAL HIGHLANDS
Nominations for the Central Highlands business awards will close on June 21 with winners announced in September. The awards celebrate the efforts and achievements of a diverse and dedicated business community and recognise their contribution, not only to economic vitality but to creating the strong, healthy, vibrant regional community that is the Central Highlands. Businesses and individuals are encouraged to nominate a business they believe excels at what they do or, alternatively, to self-nominate
---

Local Buying Foundation – Building Business Communities
LBF Initiatives:
Bridging the Boundaries: Business Facilitator Program is an LBF strategic initiative with Central Highlands Development Corporation (CHDC) and Greater Whitsunday Alliance (GW3). The project equates to over $1 Million over three years providing business facilitator resources to build the capacity of small businesses in both Central Highlands and Isaac business communities. The Foundation Project Officer will continue to work with GW3 to progress research into the Mackay region for this initiative.
The Project is starting to see impact across the regions with support being provided direct to business communities through the Business Facilitators. GW3's Business Support and Facilitation Officers, Prue Lonergan and Jessie Appleton, provided opportunities to plan for business development events for Small Business Week 2019 in collaboration with Isaac Regional Council and Moranbah Traders Association.
CHDC have recruited the Business Facilitator position with Mary Ryan supporting the business development events planned for the Central Highlands Business Excellence Awards Workshop series.
LBF Project Updates:

104 Projects have been approved by the Local Buying Foundation Advisory Committee since inception, amounting to $2,642,714 which supports activities building capability and capacity in the Central Highlands, Isaac and Mackay local government areas.
Funding applications are currently being requested for Round 2 and close 31 May 2019.  To apply, visit www.localbuyingfoundation.com.au or schedule a call-back meeting with our Project Officer to discuss your idea now.
---

LBF Funding rounds and sponsored events
QLD Funding Round Dates for 2019 are:
Funding Round 1 – 1 March 2019 (CLOSED)
Funding Round 2 – 31 May 2019
Funding Round 3 – 30 August 2019
Funding Round 4 – 29 November 2019
LBF funded/sponsored events in 2019 include:
CHBEA Workshop Series: MYOB Bookkeeping – 14 May 2019

CHBEA Workshop Series: Quickbooks Bookkeeping – 15 May 2019
RIN Awards Gala Dinner 2019: 17 May 2019
Microsoft Office 365 Training: May 2019 (To be confirmed)
Small Business Week 2019 Isaac Events: 27 May – 1 June 2019
CHBEA Workshop Series: Xero to Hero Bookkeeping: 10-11 June 2019
CH Business Excellence Awards 2019: 14 September 2019
LBF 2019 Round 1 Funding Approvals:
Funding approved for the following applications: 
Small Business Week 2019 events (Isaac Regional Council, GW3, Moranbah Traders Association)
Mackay's Regional Innovation Showcase at National Exhibitions (Resource Industry Network)
Building Dream Teams Project (Mackay Region Chamber of Commerce)
Microsoft Office 365 Training (Two at a Thyme Catering)
---
Bowen Basin Business Development Initiative 

The Bowen Basin Business Development Initiative (BBBDI) Strategy 2018 – 2019 is now available at www.bbbdi.com.au.
The BBBDI Strategy provides a framework for organisations and key stakeholders to assist in the planning and delivery of business development activities.
The Local Buying Foundation is proud to support the release of the strategy. This is a critical document utilised by the Local Buying Foundation Advisory Committee with assessing funding applications for future projects and events.
---
See what is happening around Australia with LBP
Local Buying Program Highlights (January – March 2019) and Financial Year To Date Summaries: