Local Buying Program In Queensland
Highlights for Queensland, 1 July 2018 to 31 December 2018:
$45,119,141 – Approved spend to local suppliers
3,458 – Approved work opportunities created by BHP employees
834 – Businesses approved to supply via the LBP
16.7 – Day average payment period from receipt of invoice
See Queensland year to date financial results here.
For more information on the Local Buying Program in Queensland please contact  your local C-Res Business Engagement Advisor, Jessie Appleton, via email jessie.appleton@c-res.com.au  or visit our website.
---
BHP Supply Information Event

On Tuesday 11 December more than 120 people attended the BHP Supply Information Event held at the Mackay Entertainment and Convention Centre (MECC). The event was organised to provide an opportunity for local business owners and employees to learn about BHP's supply chain processes and systems.
The day was split into two identical sessions which offered presentations on Citibank's Supply Chain Financing, BHP's Local Buying Program and SAP Ariba. C-Res CEO Tracey Cuttriss-Smith spoke on behalf of the Local Buying Program whilst other C-Res staff manned the stalls and discussed the Program with suppliers, and potential suppliers, to answer the questions on all of C-Res' processes.
C-Res staff enjoyed the opportunity to meet local suppliers at the event and commented that it was great to be able to put faces to the suppliers that are on the Program. It was also an excellent opportunity for C-Res staff to meet other BHP employees including Phil Jefferys, Head of Community, Strategy and Planning, BHP Minerals Australia Supply.
Overall the event was a success for BHP and for C-Res, as it gave suppliers the opportunity to gain a better understanding of the Local Buying Program and to meet directly with C-Res staff to answer any questions and provide additional support where required. The C-Res Program Administration team also had the opportunity to learn more about SAP Ariba which is a program used daily by all C-Res Administrators.

Images: LEFT: Jessie Appleton (Business Engagement Advisor, C-Res). MIDDLE: Christine Ferguson (Program Administrator, C-Res), Kristin Barnes (Mader Queensland), Jenna Meaney (Mader Queensland) and Naomi Davis (Program Administrator, C-Res). RIGHT: C-Res team including Lea Waters-Marsh (Program Analyst, C-Res), Tracey Cuttriss-Smith (CEO, C-Res), Melanie Woodman (Finance, C-Res) Lisa Harpley (Business Engagement Advisor, C-Res), Jessie Appleton (Business Engagement Advisor, C-Res), Lauren Crighton (Business Engagement Advisor, C-Res), Christine Ferguson (Program Administration, C-Res) and Naomi Davis (Program Administration, C-Res).
---
Celebrating Christmas Whilst Supporting Locals
The end of 2018 saw many sites participating and planning site celebrations as a sign of appreciation to BHP, BMA and BMC to employees. These celebrations included vouchers for staff, Mine Crew Christmas parties and staff BBQ's and seafood feasts for those working over the holiday season. Not only boosting the morale of site employees, it has also benefited greatly the local suppliers based in the regions they are operating.
In December, 53 Work Instructions were created for vouchers using 33 local suppliers across the three regions. Along with vouchers, Christmas parties, morning teas, BBQs and Lunches were also provided for staff to ensure that Christmas was celebrated; utilising the goods and services of 25 suppliers for Christmas parties, BBQ and seafood packs and family entertainment.
This equated to almost $130,000 going to LBP suppliers, from 72 Work Instructions.
Overall, the support from BHP, BMA and BMC across the Christmas period would have certainly boosted many small businesses in the region.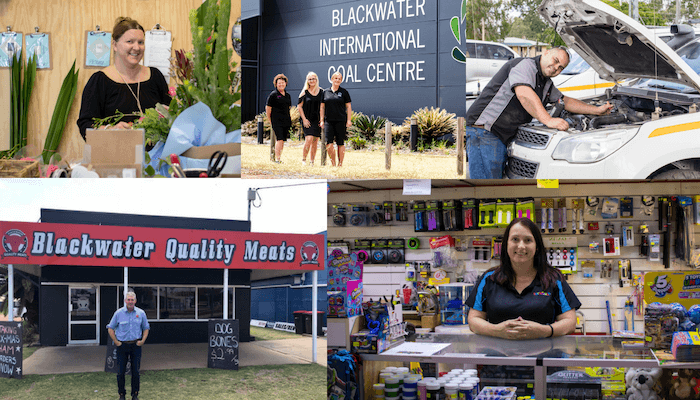 Image: Local Suppliers participating in the voucher program – Left to Right:  Moranbah Blooms and Events, Blackwater International Coal Centre, Taylored Automotive, Blackwater Quality Meats and Moranbah Toyworld.
---
Capture Your Capabilities With The C-Res Business Engagement Advisors
This December, our two newest Queensland staff members attended a Business Capability Statement Workshop hosted by the Department of State Development, Manufacturing, Infrastructure and Planning.
The workshop provided the information needed to produce a Capability Statement that can then allow for procurement teams to assess a business's expertise, achievements and potential
to deliver goods and services. Many of the attendees were registered Local Buying Program suppliers. This was a great opportunity for our C-Res staff to meet these suppliers.
If you don't have a capability statement for your business, we strongly encourage you put one together. Our Business Engagement  Advisors have the templates and information available to support suppliers when creating this important document, and are available to provide assistance upon request. If you do have a statement and haven't added it to your Local Buying Program profile, we would love for you to send it through.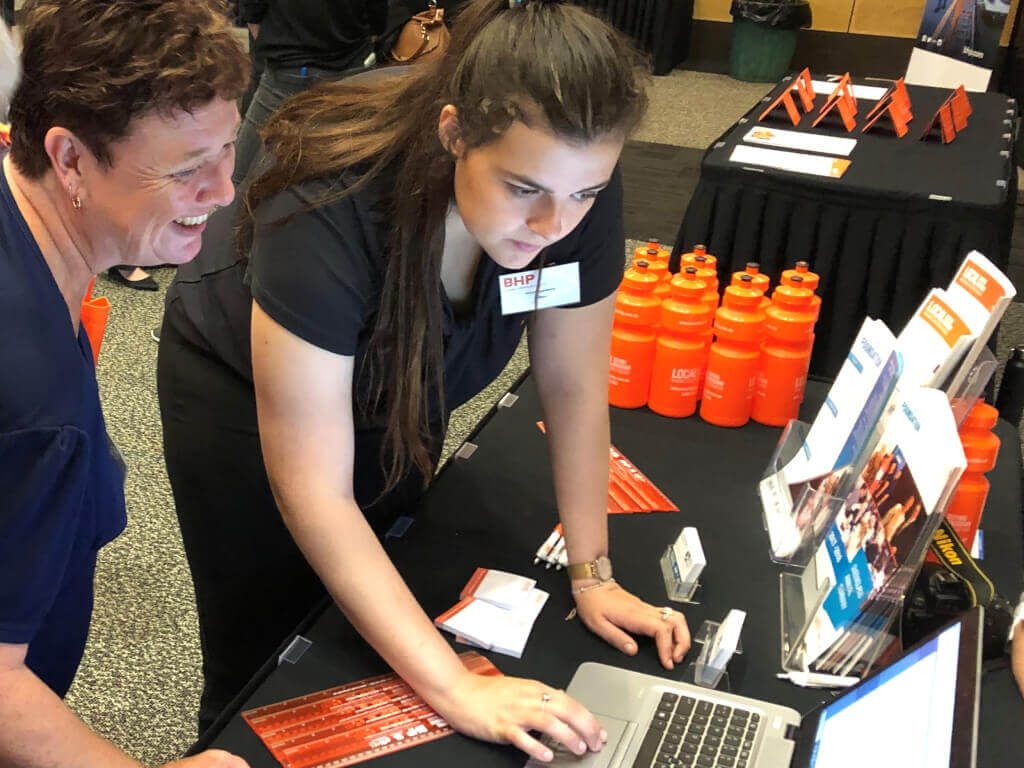 Image: Gaylene Everett (Embroidery Collective) with Jessie Appleton (Business Engagement Advisor, C-Res)
---
Upcoming Events
1 February | RIN Industry Briefing | MACKAY

Join RIN for their February Industry Networking Lunch, this will be the first industry briefing for 2019 and will be sponsored by McKays NQ. This is currently a save the date, with times and more information to be announced soon.

21 February | Concept Consulting – Master Your Marketing Courses | MORANBAH

This workshop is designed for business owners and those responsible for marketing to gain the knowledge and confidence they need to improve their business performance in today's modern marketing world. Proudly supported by the LBF.

21 February | Measuring For Success Workshop | MACKAY

This free half-day workshop, held by the Queensland Government Department of Industry, Innovation and Science, will identify the areas that need to be measured and demonstrate how to measure them. You will receive templates and digital files so you can go back to your business and begin logging your information immediately.

6 March | CHDC Economic Futures Forum | EMERALD

This industry forum will engage and attract industry leaders into the Central Highlands to support business communities to build on their capacities and capabilities. More information to come.

8 March | CHRRUP Future Food and Fibre Conference | EMERALD

This event draws quality speakers to Central Queensland with the aim of ensuring the long term resilience of the region's agricultural businesses. The theme of the 2019 Future Food and Fibre Conference is; thinking and acting in new ways to prepare agricultural businesses for tomorrow. Agricultural producers and others who rely on agriculture for their business will have the opportunity to learn and be inspired for the future of their industry. Supported by the LBF.

8 March | RIN International Women's Day Business Lunch | MACKAY

Join the Resources Industry Network and help celebrate successful women in STEM roles as part of its International Women's Day business lunch. With a group of panelists still to be announced, this event will be a great way to network and engage with women in the Mackay business community.

22 March | RIN Safety Conference | MACKAY

The Resource Industry Network 2019 Safety Conference will provide you with the latest industry information from inspirational speakers and experts. This conference is an interactive one day conference which will provide you with the opportunity to gain further knowledge on a number of key safety topics.

Funded by the Local Buying Foundation

Local Buying Foundation Thinks Big in 2018/2019
Bridging the Boundaries: Business Facilitator Program was announced in Emerald and Moranbah being for the Foundations' strategic initiative with Central Highlands Development Corporation (CHDC) and Greater Whitsunday Alliance (GW3). The project announcement equates to over $1 Million over three years providing business facilitator resources to build the capacity of small businesses in both Central Highlands and Isaac business communities. CHDC and GW3 have completed recruitment for the Business Facilitators with the following successful appointments:
Vicki Leeson – CHDC, Business Facilitator (Full time)
Prue Lonergan – GW3 Business Support Facilitation Officer (BSFO) (Part Time) Commencing in October and 0.6 from December 2018, located in Clermont
Jessie Appleton – C-Res BEA and GW3 BSFO (Full time: split is 0.6 C-Res BEA and 0.4 GW3 BSFO from December 2018) located in Clermont. Jessie will support Prue Lonergan.
The Foundation Project Officer will continue to work with GW3 to progress research into the Mackay region for this initiative.
LBF Project Updates:

A total of 96 Projects have been approved by the Local Buying Foundation Advisory Committee since inception, amounting to $2,171,238 which supports activities building the capability and capacity in the Central Highlands, Isaac and Mackay local government areas.
Funding applications are currently being requested and close 1 March 2019. To apply, visit www.localbuyingfoundation.com.au or schedule a call back meeting with our Project Officer to discuss your idea now.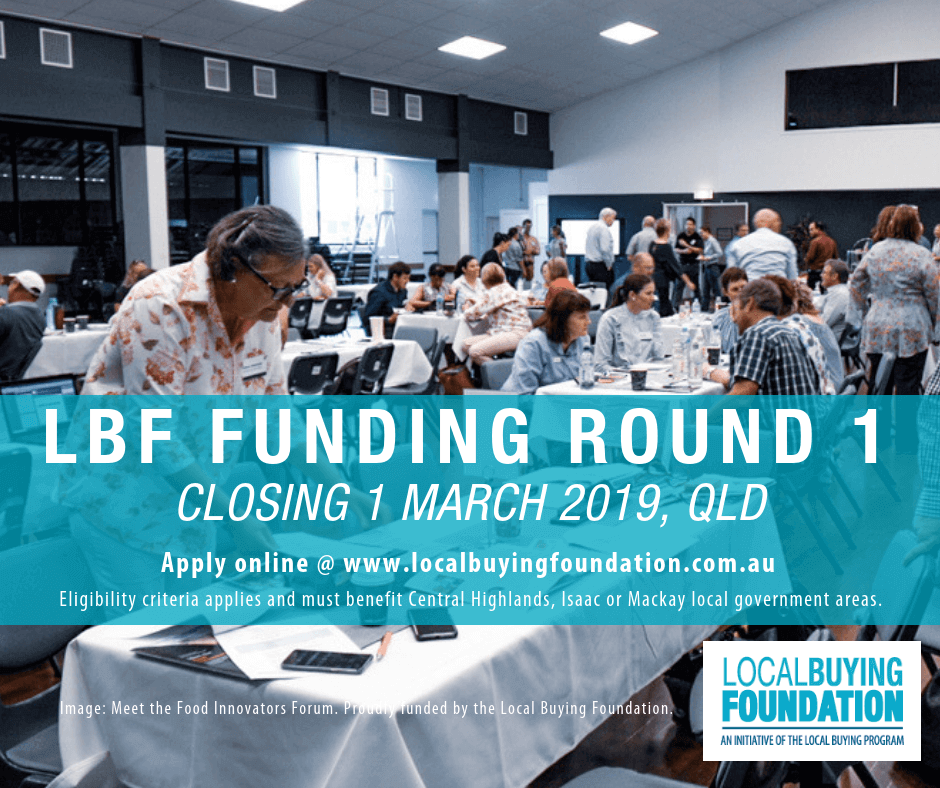 ---
LBF FUNDING ROUNDS AND SPONSORED EVENTS
QLD Funding Round Dates for 2019 are:
| | | |
| --- | --- | --- |
| FUNDING ROUND | FUNDING ROUND CLOSES | LBFAC MEETING DATE |
| 1 | 1 March 2019 | 22 March 2019 |
| 2 | 31 May 2019 | 21 June 2019 |
| 3 | 30 August 2019 | 20 September 2019 |
| 4 | 29 November 2019 | 13 December 2019 |
LBF Funded/Sponsored Events in 2019 include:
MCROC Chamber Annual Conference – 1 March 2019
CHDC Economic Futures Forum – 6 March 2019
CHRRUP Future Food & Fibre Conference – 8 March 2019
RIN Safety Conference 2019 – 22 March 2019
RIN Awards Gala Dinner 2019 – 17 May 2019
CH Business Excellence Awards 2019 – 21 September 2019
 LBF 2018 Round 4 Funding Approvals:
Funding approved for the following applications: AgFrontier Hub (CHDC), Chamber Annual Conference (MRCOC), Drones for Schools 2019 (Clermont State High School – CH VET Cluster Network).
_________________________________________________________________________________
Bowen Basin Business Development Initiative 

The Bowen Basin Business Development Initiative (BBBDI) Strategy 2018 – 2019 is now available by visiting www.bbbdi.com.au.
The BBBDI Strategy provides a framework for organisations and key stakeholders to assist in the planning and delivery of business development activities.
The Local Buying Foundation is proud to support the release of the strategy as it is a critical document utilised by the Local Buying Foundation Advisory Committee with assessing funding applications for future projects and events.
---
See What Is Happening Around Australia With LBP
October to December Highlights and Financial Year to Date Summaries of the Local Buying Program.
Queensland Highlights    New South Wales Highlights   South Australia Highlights    Western Australia Highlights