Local Buying Program in New South Wales
Highlights for New South Wales, 1 July 2018 to 30 June 2019:
$7,893,643– Approved spend to local suppliers
527 – Approved work opportunities created by BHP employees
120 – Businesses approved to supply via the LBP
14 – Days average payment period from receipt of invoice
For a comprehensive overview of the year that was, including financial results and milestones, see the Local Buying Program's New South Wales FY19 Annual Summary.
For more information on the Local Buying Program in New South Wales please contact your local C-Res Business Development Advisor, Lisa Harpley, via email lisa.harpley@c-res.com.au  or visit our website.
---
MAC keeps it in the family for fun day on site
The Local Buying Program was presented with an opportunity to connect with the families of BHP employees and the broader community thanks to the MAC Family Open Day.
With a farm animal petting zoo, face painting, activities and presentations about the mine and its operation, the day was a relaxed and information chance to see what happens behind the scenes of such a vital operation.
While it wasn't an opportunity to do business, as such, it was a valuable platform for raising awareness of the Local Buying Program and the many benefits for the small to medium business sector.
On a day when the pride of workers with a chance to explain to their loved ones, what they do, day-in-day-out, was highly evident, it was a wonderful opportunity to be there and share the message of buying locally and supporting the businesses of a vibrant and motivated community.

IN THE FAMILY: Pride was the theme of the day as employees had the chance to show their families around and give them a behind-the-scenes glimpse of their day-to-day work at the MAC Family Open Day.
---
Singleton businesses celebrated at regional Business Awards
It was a new look for the Singleton Business Excellence Awards this year, with a change in venue to Club Singleton and a live band for entertainment. What really stood out, however, was the calibre of standout winners and nominees for each category of the awards.
The Local Buying Program was proud to have two suppliers as winners on the evening.
The Eye Place was named winner of the Award for Excellence in Micro Business.
All Seasons Hunter Pools & Woodfires we also awarded for their Excellence in Small Business.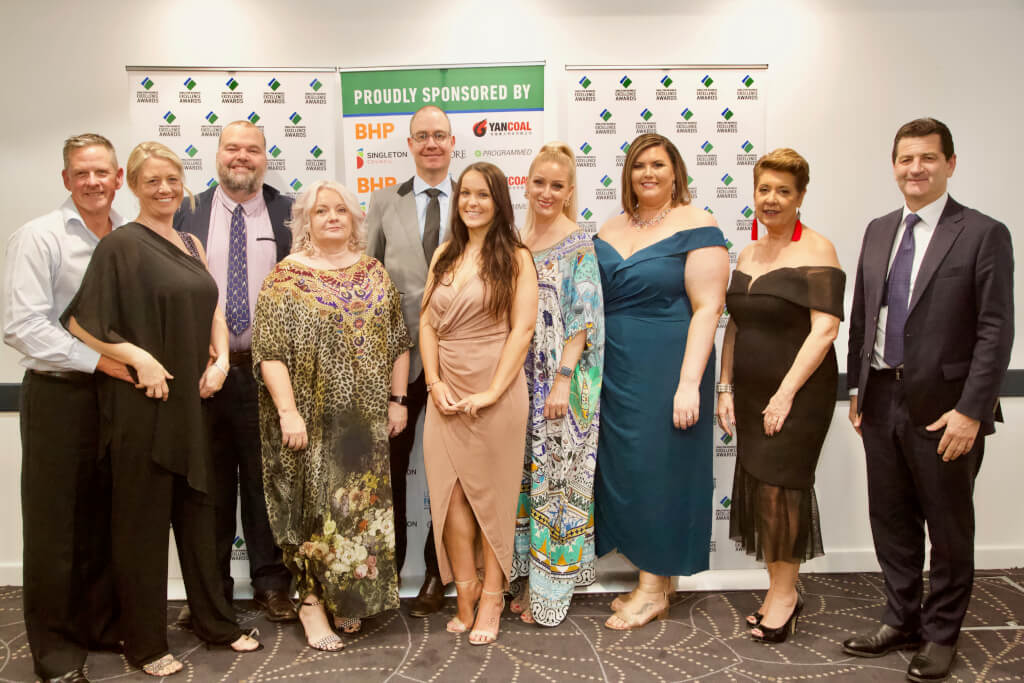 CELEBRATING: Frocked up and celebrating business success are, from left, Sean & Debra Thomas (All Seasons Pool & Woodfires), Damien Perkins (BHP), De-anne Douglas (LBF Committee Member), Adam Maher, Samantha Heuston, Tanya Smith (The Eye Place), Lisa Harpley (C-Res Business Development Advisor), Sue Gilroy (LBF Committee Member) & John Aurisch (C-Res).
---
The art and science of leadership under the microscope at forum
Leadership is both an art and a science.
That was the message from Singleton Business Chamber and community business leaders at the June Leadership Development Lunch.
Investing in leadership development was a great way to build on the skills of emerging talent, retain key staff and ensure an organisation's strategy was well executed, a Chamber spokesperson said.
Among those taking part in the forum – and connecting with the needs of local small businesses – was Local Buying Program Business Development Advisor Lisa Harpley.
In smaller organisations, leaders need to invest in themselves and build on existing skills to remain motivated and engaged.
It is that brand of empowerment and capability-building that is at the heart of the LBP values.
The event welcomed renowned leadership coach, trainer, author and speaker Greg Mowbray, who delivered some practical advice on improving leadership influence.
The founder and CEO of the Licence to Lead Leadership Development Program, Mr Mowbray has worked with organisations across many industries to develop their leadership capability.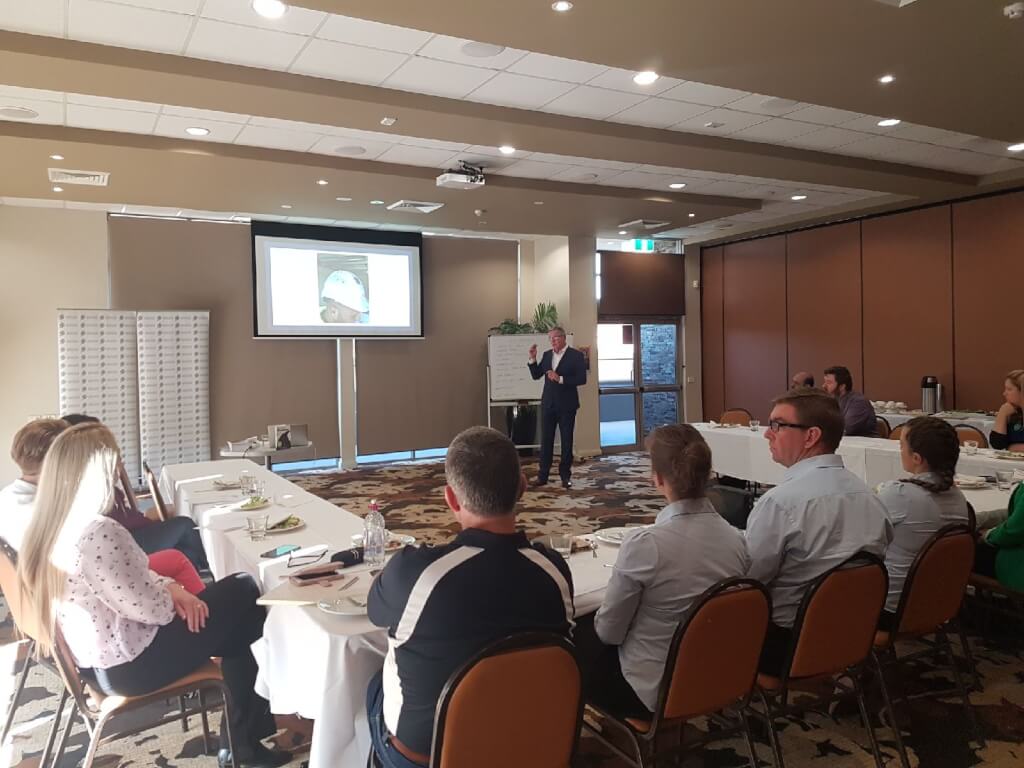 IN FOCUS: Leadership was the fine point made at the June Leadership Lunch hosted by Singleton Business Chamber.
---
Muswellbrook SMEs in the spotlight for their achievements
Muswellbrook Chamber of Commerce & Industry held their annual Muswellbrook Business Awards in April, celebrating excellence in local business for the 2018 calendar year.
Local businesses where in the spotlight, being recognised for all their hard work and efforts throughout the year.
The Local Buying Program was proud to have three of its registered suppliers as winners on the evening.
Muswellbrook Home Timber & Hardware won the Retail award, Blackrock Industries won for Trades & Industry and The Remington took out 2 wins, Hospitality & Tourism along with the Business of the Year award.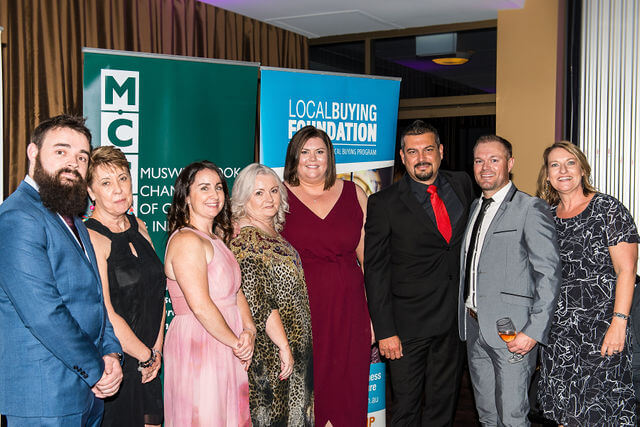 KUDOS: Enjoying the showcase of what businesses in Singleton have to offer were, from left, Steve Fordham (Blackrock Industries), Sue Gilroy (LBF Committee Member), Deirdra Tindale (LBF Chair), De-anne Douglas (LBF Committee Member), Lisa Harpley (C-Res), Grant Gill (The Remington), Chris Lavis (Home Timber Hardware) & Tracey Cuttriss-Smith (C-Res).
---
Banter and breakfast has businesses buzzing
Muswellbrook Chamber of Commerce & Industry's June breakfast saw Muswellbrook Mayor, Martin Rush present a detailed analysis of Council's 2019/20 budget and the way Muswellbrook Shire Council was responding to community risks associated with the long-term declining significance of thermal coal.
Cr Rush said the shire was spoke about projects – such as water treatment services upgrade, a new building for the animal refuge, entertainment area located at Olympic Park, among others – and the impact these were expected to have on the shire's rates.
He said Muswellbrook Shire was expected to continue performing on a budget in surplus for the next three years.
Projects and major capital works in the pipeline – all of which could be of benefit in diversifying the interests of Local Buying Program registered small businesses, as well as all SMEs throughout the region – were also mentioned.
LBP Business Development Advisor Lisa Harpley attended the breakfast, and heard first hand the opportunities and challenges presenting for local business operators.
Lending support and a direct link for small businesses to BHP's Mount Arthur Coal via the LBP, while helping the business community build capacity and capability, aligned with short and longer-term visions of the Muswellbrook region.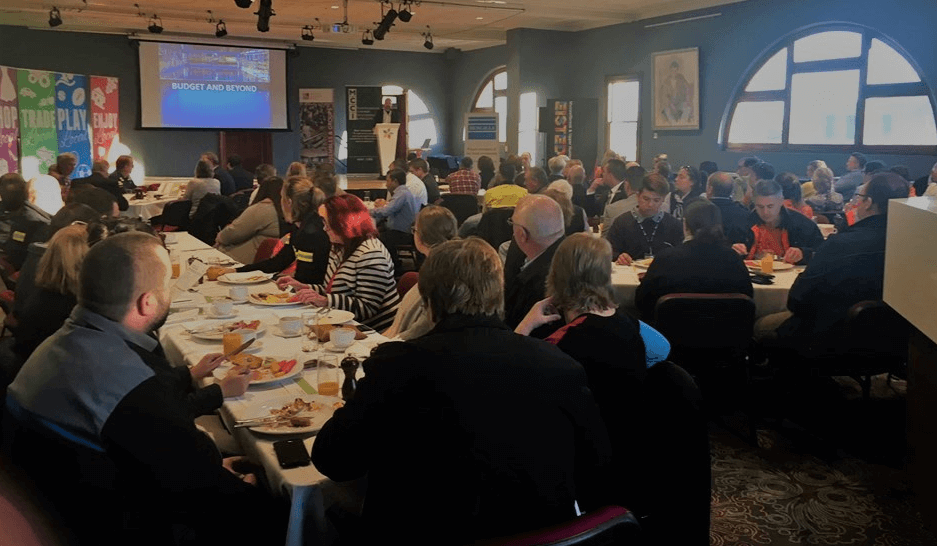 GOOD EGGS: Getting the latest information on what's happening in their part of the world, are attendees of the Muswellbrook Chamber of Commerce and Industry June breakfast.
---
A Betta solution found through the Local Buying Program
The Local Buying Program has built a solid reputation on solving problems for buyers and creating opportunities for suppliers. So, when MAC needed all kinds of appliances, there was a better (or, should that be Betta!?) solution at hand!
Mt Arthur Coal is often on the hunt for good quality, cost-effective appliances for site.
Whether it be kitchen appliances, such as toasters, sandwich presses, to commercial fridges; or technology and gadgets such as dash cams, barcode scanners and cameras – when they need something, they need it in a timely and reliable manner.
So, through the Local Buying Program, a Request for Quote (RFQ) Work Instruction (WI) was raised for the supply of the appliances.
From there, the work opportunity is quoted on and the job is awarded based on price, delivery time, quality and service.
Muswellbrook Betta Home Living have provided many successful RFQ's for MAC – so the franchise's Tanya and Guy Nichols are no strangers to the process – or the standard expected by MAC.
As a local small business, Muswellbrook Betta Home Living are able to provide fast delivery turn around at affordable prices. They are also able to source items they may not necessarily have in stock at the time to suit MAC's needs making them a reliable supplier.
And in doing so, they prove that through the Local Buying Program, solutions of any scale are readily available, and easily sourced in thriving local communities!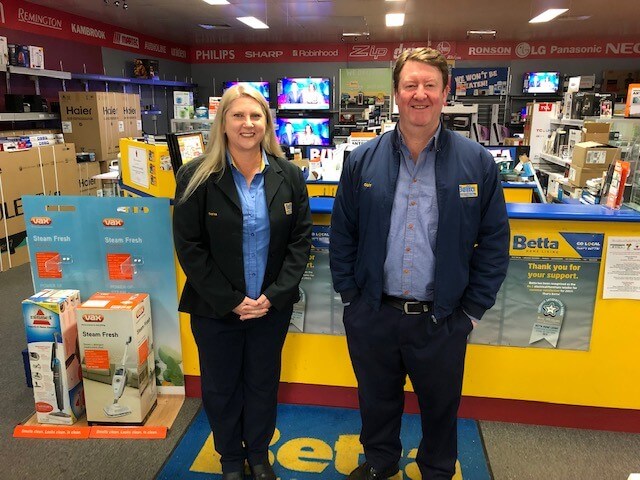 GOOD BETTA, BEST: Happy to offer a "Betta" solution for Mount Arthur Coal's appliance needs, through the Local Buying Program, are Tanya and Guy Nicols (Muswellbrook Betta Home Living).
---
Upcoming events
8 August | Singleton Business Chamber Breakfast | SINGLETON
Singleton Business Chambers 2019. The theme of this breakfast is Around Our LGA – looking at the opportunities and new developments happening throughout our region.
14 August | Singleton Women in Business| SINGLETON
Opportunity to engage with other women, develop yourself socially and personally, networking with other like-minded women, improving self-confidence and most of all, have fun.
---

The Local Buying Foundation (LBF) is a critical element of the Local Buying Program. BHP makes a financial contribution to the LBF for every approved LBP transaction. The aim of the LBF is to enhance the economic sustainability of regions within the operational footprint of BHP operations in New South Wales through the support of programs and initiatives that target local business training and development needs.
A message from LBFAC Chair, Deirdra Tindale
The Local Buying Foundation in New South Wales has expanded significantly in its second year of operation. This has been made possible by an increased spend from BHP's Mt Arthur Coal operation through the Local Buying Program, from which the Foundation draws its funding.
It has been encouraging to see an increase in funding applications for a variety of different projects from throughout the Singleton, Muswellbrook and Upper Hunter shires.
From the sponsorship of the Singleton and Muswellbrook Business Awards and various tourism initiatives, to an exciting new partnership with the Singleton Business Chamber to match funding for the continuation of a Business Development Officer role for another 12 months, we are proud of the commitment we have made to enhancing the capacity and capabilities of businesses in these regions.
Thank you and congratulations to the Local Buying Foundation's New South Wales Advisory Committee on the successes of the last 12 months. The upcoming year will undoubtedly bring continued strength and I look forward to continuing to work together to achieve outcomes for our local business communities.
Deirdra Tindale.
Chair Local Buying Foundation.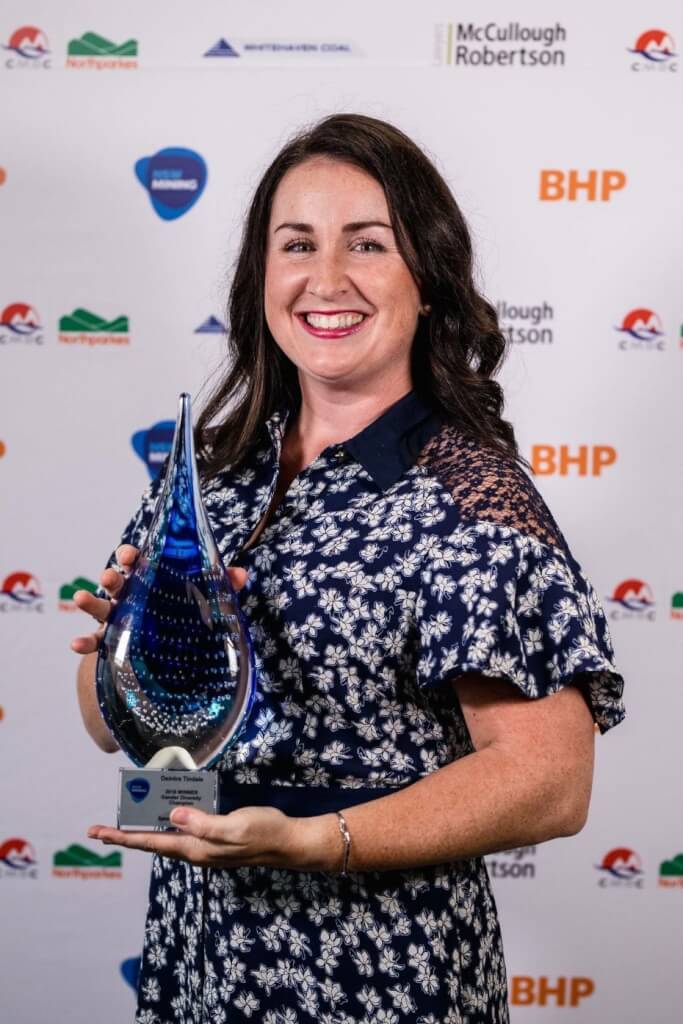 LBF: Advisory Committee Chairman, Deirdra Tindale (BHP Corporate Affairs).
LBFAC member news
The NSW Local Buying Foundation Advisory Committee welcomed new committee member, David Gatwood from Upper Hunter Shire Council.
Mr Gatwood is the Manager – Business Services at Upper Hunter Shire Council and is a prolific member of the community.
He is known for his involvement in the stock horse industry and commitment to building on the economic growth and sustainability of the region he calls home.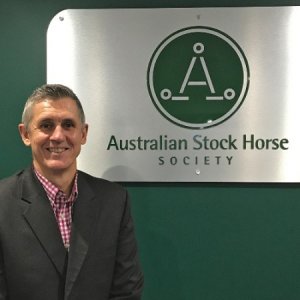 IN THE SADDLE: David Gatwood (Upper Hunter Shire) is the newest addition to the LBF Advisory Committee. (Picture: LinkedIn)
---
Local Buying Foundation – Congratulations to successful applicants 
The NSW Local Buying Foundation has approved funding for 10 projects with $109,116 in approved funding which supports activities building the capability and capacity in the Singleton, Muswellbrook & Upper Hunter local government areas.
Congratulations to the following organisation who was successful in our most recent funding round:
Singleton Business Chamber – Building Connected Business Communities
When it comes to sustainability and growth, Singleton's small to medium business owners know the power of having the right support.
That's why the Local Buying Foundation has matched $35,000 in Singleton Business Chamber funding to ensure the ongoing support of the Business Development Officer role for another year.
The funding, which is effective as of June this year, enables the Business Development Officer to build on the momentum of the Chamber's important Building Connected Business Communities program.
The Building Connected Business Communities program will see the Business Development Officer support local businesses across BHP's (namely, Mt Arthur Coal) operational footprint. The position will continue to facilitate the identification of gaps and opportunities for training, technology and innovation initiatives; coordination of training and development for small and medium enterprises; development of networks and alliances with local government, private enterprise and other local chambers of commerce and industry groups.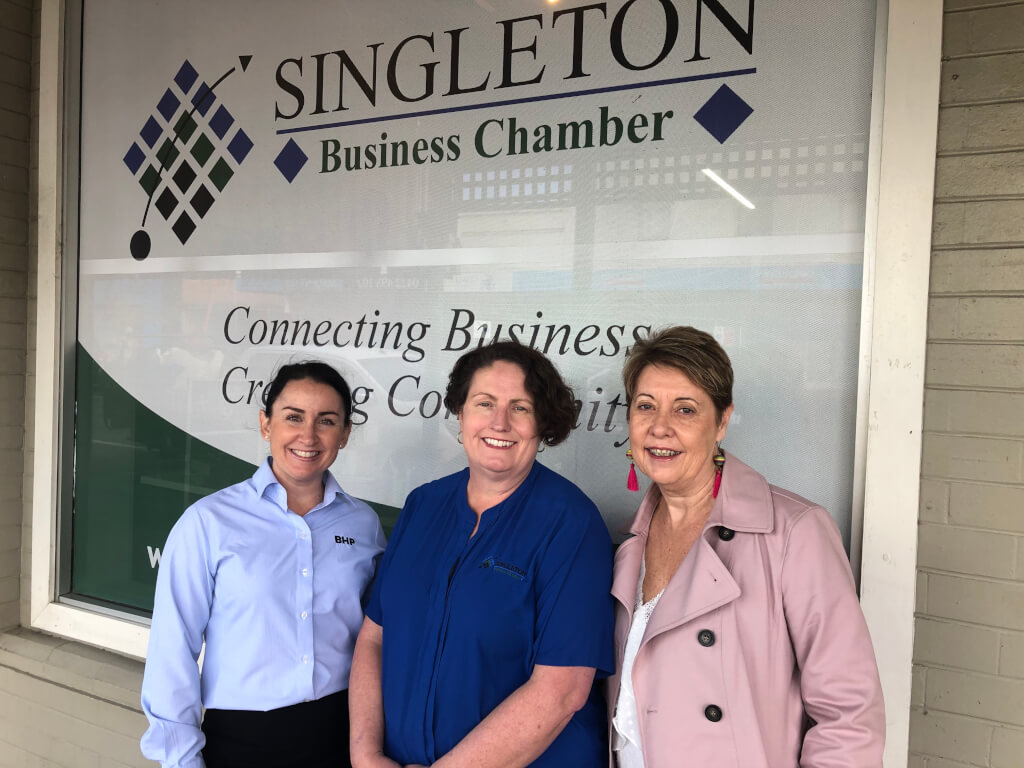 CONNECTED: From left are BHP's Deirdra Tindale (
LBF Chair)
, 
Darlene Flockhart (
Singleton Business Chamber Business Development Officer) 
and Sue Gilroy (
Singleton Business Chamber President).
Project update – Elevate your Director Skills
Ask any good leader, and they will tell you they are always learning.
It's exactly why the Local Buying Foundation is investing in the training and development of leaders in the community in which it operates.
The Foundation – which is funded through the Local Buying Program – has partnered with The Business Centre to help deliver training to aspiring and current director-level leaders.
Aimed at equipping participants with the tools needed to best understand their role, responsibilities and the associated risks, the training is delivered through the Elevate your Director Skills framework.
The course, first delivered in Muswellbrook in March this year, is a two-day program targeting the common gaps in many leaders' corporate governance knowledge – specifically, around their roles as directors and the responsibilities and accountabilities that present in a corporate or not for profit organizational setting.
The first Elevate Your Directors Skills training, held at the UON, was attended by 11 people and covered areas of governance including the role and responsibility of the board and company directors, legal framework and a module called Financial Literacy for Directors.
Two Rivers Wines General Manager Brett Keeping, who attended, said it was two days well spent.
"The Directors course run by The Business Centre was very informative and engaging," Mr Keeping said.
"It really reinforced the responsibilities and legal obligations involved with being a company director. Very worthwhile!"
Following success of this initial session, the Local Buying Foundation in New South Wales has been working on future training pathways with The Business Centre.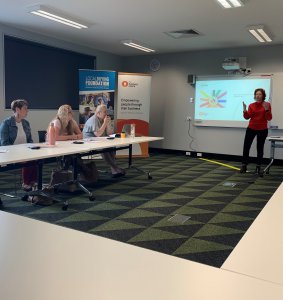 LEADING: Elevate Your Director Skills training provided a comprehensive program of skills development.
Project updates – Muswellbrook and Singleton Business Awards
The Local Buying Foundation was proud to be platinum sponsors of both the Muswellbrook and Singleton business awards this year.
Local business awards are a great opportunity to recognise excellence in business – and, in this case, the local businesses of Muswellbrook and Singleton shone bright.
The Local Buying Foundation is committed to supporting local businesses and investing in the capacity and capability development of those businesses in the regions it operates in.
Continuing with ongoing sponsorship of the Muswellbrook and Singleton business awards, is one way the LBF is committed to this in New South Wales – particularly in the Upper Hunter regions.
This also bolsters the belief that not only is support and development crucial, but so too recognition and the exposure to how other businesses define and acheive success.
Local Buying Foundation – Funding round 4, 2019
Applications for the final round of funding for 2019 will close on 25 October.
For more information, please contact Lisa Harpley via email lisa.harpley@c-res.com.au.
For further information regarding funding guidelines, application forms and closing dates please visit www.localbuyingfoundation.com.au.
NSW Funding Rounds 2019:
Round 1 – 7 February 2019 (CLOSED)
Round 2 – 26 April 2019 (CLOSED)
Round 3 – 26 July 2019 (CLOSED)
Round 4 – 25 October 2019
We look forward to sharing outcomes as the following supported projects roll out through 2019:
Building Connected Business Communities
Upper Hunter Country Tourism Website
Live Work Invest Scone Stage 2
Upper Hunter Country: Visitors Guide 2019
Riverside Community Training Kitchen
---
See what is happening around Australia with LBP
Local Buying Program Highlights (April to June 2019) and FY19 Annual Summaries: