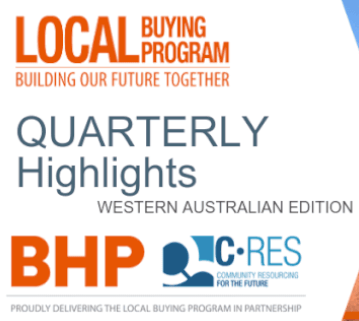 Local Buying Program in Western Australia
Highlights for Western Australia, 1 July 2019 to 30 September 2019:
$5,448,870.67 – Approved spend to local suppliers
300 – Approved work opportunities created by BHP employees
243 – Businesses approved to supply via the LBP
13.3 – Days average payment period from receipt of invoice
For a comprehensive overview of results for the last quarter, please see the Local Buying Program's Western Australia Financial Year To Date Summary.
For more information on the Local Buying Program in Western Australia please contact your local C-Res Business Development Advisors: Mj van Vuuren (Port Hedland) via email mj.vanvuuren@c-res.com.au; and Georgie McInerney (Newman) via email georgie.mcinerney@c-res.com.au or visit our website.
---
Business goes after hours and promotes value of BHP, C-Res and Local Buying Program
Christmas in July celebrations at the Newman Chamber of Commerce and Industry Business After Hours event, at Parnawarri Retail Centre, proved a huge success with a large number of representatives from local businesses, community organisations, BHP and C-Res.
The theme of the night was focused on the importance of partnerships, with Marie Bourgoin speaking about her new roles at BHP Newman Operations and NAIDOC.
Ms Bourgoin celebrated the achievements of the Local Buying Program (LBP) in the Newman Community, while raising awareness of the potential value BHP could provide in local and indigenous communities – each, and every day – by teams on site.
Craig Butler (MD VPG Property, Parnawarri Retail Centre) updated the group on the activation of BHP's largest single social investment – the Parnawarri Retail Centre – and news of future activation projects.
C-Res Business Development Advisor Georgie McInerney provided information on the work C-Res was doing with the Local Buying Program in the community and the value being added to relationships between BHP site operations and local businesses.
---
Good coffee on the menu for LBP traditional owner business
Coffee can now be sourced effectively and efficiently through BHP's Local Buying Program from a Traditional Owner Business adding value to every cup of coffee consumed by BHP personnel.
Australian Indigenous Coffee (AIC), a 50% owned BHP-considered Traditional Owner (Palyku) Pilbara Aboriginal business, which create and brew its own delicious coffee blends, has tried (unsuccessfully) to gain a BHP coffee supply opportunity for many years.
The business, which was started by Pilbara brothers Blaze and Ezekiel Kwaymullina has now grown into WA's largest Aboriginal-owned coffee supplier.
Our C-Res Business Development Advisor, Georgie McInerney, and BHP Local Buying Principal Shelley Comtesse have been supporting BHP personnel to find opportunities to look at directly engaging AIC for their coffee requirements across sites.
In support of this, an email banner campaign was activated across the WAIO footprint, encouraging buyers to "Wake up and Smell the Coffee". This helped promote the onboarding of AIC on to the Local Buying Program to buyers and different teams
BHP created an opportunity for the Australian Indigenous Coffee cart to be directly engaged for BHP Indigenous Supplier Meet the Buyer in Perth. BHP South Flank, Mining Area C, Port, Rail and Jimblebar have now engaged Australian Indigenous Coffee directly through the Local Buying Program, with about 3400kg sourced since July 2019.
A proportion of the coffee carts revenue has also been directed toward AICs 'Beans to Books' a program with Magabula Books to put more books in the homes of Aboriginal children in need.
"This is a great demonstration of how Pilbara Aboriginal Businesses are being engaged for non-traditional resource sector goods and services – a reminder for all BHP end users to think big!" Shelley Comtesse, Principal Local Buying BHP MinAus Supply – Partnerships and Innovation.
---
From little things big things grow
If we look back from where we are now since the beginning of 2019, it is plain to see the seeds our Business Development team are planting in the communities in the Pilbara are beginning to grow!
Not only are local suppliers now seeing regular opportunities through the Local Buying Program, but BHP sites are proactively finding opportunities to ensure they think local first.
This growth has been supported by our teams consistent targeted support to site operations and BHP in Perth.
In July 2019 C-Res Business Development Advisor, Georgie McInerney, travelled to Perth to represent the Local Buying Program at the Newman Futures Perth Lunch and Traditional Owner and Pilbara Aboriginal Businesses Forum.
Held at Brookfield Place, this was a chance to meet with project teams at BHP to discuss future project opportunities to be carved out for the Local Buying Program and provide 1:1 sessions to BHP personnel in Perth who wanted to learn more about how C-Res and BHP were working together to achieve social value in the Pilbara.
The past few months have also seen increased engagement by C-Res Business Development Advisor in the Newman community with the continued success of the LBP drop in sessions both in the Town Square for suppliers and community members and across multiple sites in WAIO.
In August and September teams from Geoscience and NPI engaged in BHP Supply LBP awareness sessions across two weeks in Newman – an opportunity for project supervisors, logistics officers and superintendents to find out more about the program, to ask questions and learn how they can create social value by providing opportunities to local businesses.
A recent BHP Supply Gallery Walkthrough gave Georgie the opportunity to present the benefits of buying local with the VP Global Warehousing and Logistics and supply management teams.
The 2020 financial year has already started with a bang with a record number of buyers using the program in WAIO, and request for quote and project opportunities increasing across a wide range of categories including dry hire, logistics, catering, signage, waste management and rehabilitation.
---
Four-wheel-drive business shows locals do it better
Local training provider Mark Keogh Training has proved that Local is Better in helping BHP put safety first and ensure that recovery is done right!
Over the past couple of months new trainees have received a great Welcome to the Pilbara being placed into Mark's courses to ensure that they can safely operate and maintain their vehicles.
Existing BHP employees have joined the BHP trainees obtaining their RIIVEH305E 4WD Qualification across different sessions booked through the Local Buying Program.
Future sessions are planned for Advanced Recovery and Mark's winning service has been accommodating and flexible to all involved.
"Thanks BHP, for using a local business!" Mark Keogh said.
---
Program lets local businesses have their (purple!) cake and eat it, too
We love nothing more than hearing how the Local Buying Program delivers creative local solutions to BHP operations in the Pilbara and this month we received this fantastic finger licking good news story from Leanne Kukatai, Inclusion and Diversity Lead at BHP Jimblebar.
Peta Winzar, of Petey Cakes was sourced through the Local Buying Program (LBP) to provide about 700 cakes – all in a fabulous shade of purple – to celebrate one of the site's key LGBT+ Campaigns, "Wear it Purple".
Leanne said of her experience using the LBP, "I was new to the Local Buying Program,and using the portal for the first time was very simple and easy to follow.
"After the quote was accepted, Peta and I exchanged emails, discussed options, talked through designs and pick up options. Peta kept in contact with me through the entire process and, I have to say, the presentation of the cupcakes was everything and more than I expected!
"Peta worked with another business in Perth to create the cake toppers, as well as provided extra boxes if we needed them."
Leanne went on to say, "Peta, thank you for the 700 AMAZING cupcakes!
"They were everything I wanted, they not only looked good they tasted awesome! To have two LVs pull up at your place at 7am, and for you to have had everything ready to go was testament to you, your business and your family."
Fantastic work Petey's Cakes proving local buying can be both a rewarding and delicious outcome!
Now to get our hands on some of those delicious cakes!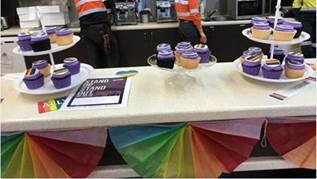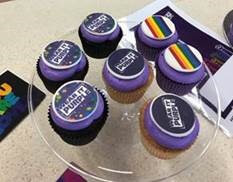 PURPLE PATCH: The LBP has provided local businesses with bright futures and a full spectrum of opportunity!
---
South Flank rail project trains eye on LBP supplier for quality materials
Engaging local suppliers through the LBP  provided an efficient and streamlined solution to a challenge faced when an initial supplier couldn't provide quality/quantity goods in a timely manner to BHP for the South Flank project.
High-quality materials and delivery service added value to the South Flank project, simplified process with prompt payment to a local supplier.
Mobile Concreting Solutions is a local Pilbara business located in Tom Price close to South Flank operations. They were able to produce and provide rail ballast material from their Pilbara quarry.
Mobile Concreting Solutions worked well with the South Flank project team to demonstrate their capabilities and have used this experience to provide solutions to other sites to provide materials for future maintenance shutdowns.
Since this initial opportunity through the Local Buying Program, MCS has been engaged on contract by BHP Asset Projects – a great story of a locally based business going from first engagement to a contract with BHP.
---
Families and businesses celebrated with BHP Hedland open day
On August 10, C-Res joined BHP at their annual Family Day. Hosted at BHP's Nelson Point, it was a great occasion for the C-Res team to engage with BHP employees and discuss the BHP Local Buying Program.
The day provided BHP employees with a rare opportunity to show their families around site as well as enjoy a number of site-based activities. Those who attended the popular event were treated to train tours, bus tours, viewings of the car dumpers and machinery.
---
C-Res sponsors PHCCI Award and celebrates region's best businesses
C-Res is all about doing good business, and connecting small business with BHP via the Local Buying Program (LBP).
So when the chance arose to sponsor the annual Port Hedland Chamber of Commerce and Industry (PHCCI) annual Business of the Year Awards, we took it!.
Hosted at the Port Hedland Yacht Club, the evening was a fantastic celebration of business innovation, dedication and endurance. C-Res was the proud sponsor of the Best Business 5-10 Employees.
A hearty congratulations to the Port Hedland F45 on winning this category, as well taking out the overall Business of the Year award.
It was great to see a number of our LBP suppliers well represented in the awards – as nominees and finalists. And to everyone who nominated – be they winners, finalists or otherwise – we extend to you all our congratulations!
Congrats, too, to the PHCCI for another gala event!
---
Upcoming events
♦  6 – 7 November | Pilbara Summit 2019 | PERTH
Pilbara 2019 will be focusing on the economic growth, investment, productivity and innovation across the region, also providing an important networking and information forum for senior industry, investors, businesses, community representatives within the Pilbara region.
♦ 14 November | PHCCI Business After Hours | PORT HEDLAND
Port Hedland Chamber of Commerce Inc. invites members and guests to the highly popular After Hours function; arranged by PHCCI and the host/s at no cost to its members.  Each event is hosted by a different business, offering a valuable opportunity to promote their products and services to the business community. The events are held at the host business's premises, or at various entertainment venues around town.
---
See what is happening around Australia with LBP
Local Buying Program Highlights (July to September 2019) and Financial Year To Date Summaries: