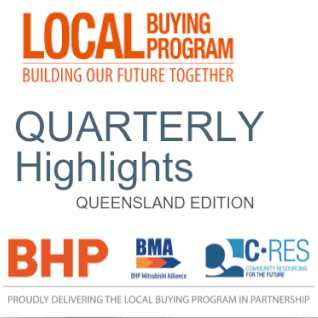 Local Buying Program in Queensland
Highlights for Queensland, 1 July 2019 to 30 September 2019:
$28,022,684.23 – Approved spend to local suppliers
1,884 – Approved work opportunities created by BHP employees
927 – Businesses approved to supply via the LBP
20 – Days average payment period from receipt of invoice
For a comprehensive overview of results for the last quarter, please see the Local Buying Program's Queensland Financial Year To Date Summary.
For more information on the Local Buying Program in Queensland please contact your local C-Res Business Development Advisor, Jessie Appleton, via email jessie.appleton@c-res.com.au  or visit our website.
---
Workforces Summit helps regions gear up for the future
No one can say with absolute certainty what the future will bring, though we do know that our normal day-to- day lives – including the way we work, the way we communicate and the way we operate – is changing.
In August, C-Res' parent company, the Greater Whitsunday Alliance (GW3) hosted the Future Workforces Summit, attracting more than 260 people from a broad cross-section of industries.
The summit gave participants the chance to stop and consider the "disruption" that was ahead of them, and how that could potentially affect their businesses and their lives. It was an opportunity to put future transformation at the forefront of people's minds.
This was the first event of its kind in regional Queensland. A program of 24 speakers, from across the METS/Mining, Agriculture, Construction and SME/Services sectors provided insight and clarity – as well as their own thoughts and forecasts – around what the future might hold for regional Australia.
Futurist and keynote speaker, Anders Sormon-Nilsson, spoke about appealing to people with digital minds and analogue hearts. In other words, while technical skills would certainly account for some of the change, the biggest need for businesses to stay competitive and in touch with their customers was to "humanize" and connect.
BHP Vice President of Global Technology Transformation, Rag Udd, also addressed the summit, giving insight on what BHP was doing in the innovation space and highlighting how jobs were already changing.
The summit provided a platform to launch regional conversations around the future of work and the opportunities that the digital age was expected to bring.
From every speaker, whatever their industry or focus, there was one core theme: New digital technology impacts every industry, and all sectors; and the summit focused on what regional businesses and community leaders could do to future-proof the region and make positive changes to keep jobs and business right here for future generations.
---
Big innovation coming from small town with Local Buying Program supplier
Small Business Owner and BMA Saraji Employee, Josh Leppard, has been recognized with a 2019 QLD Innovation Award for his innovative and practical solution to heavy shackles and slings.
After a fatality on New Year's Eve, 2018, involving a bulldozer rolling down an embankment, first respondents required heavy duty slings and shackles to upright the dozer. Traversing down a steep embankment at night, carrying shackles weighing about 62kg each, led to significant manual handling risks to the people involved.
Josh, the owner of Local Buying Program (LBP) business, Soft Rigging Solutions, was able to call on his previous sailing experience, where he had used lightweight synthetic couplings made specifically for the marine industry to reduce the weight while still providing the strength needed to recover large machines. Josh immediately saw how the principles used in the marine context would translate to the mining and heavy industry sector.
After working with a manufacturer to replicate this technology within the mining industry, prototypes were designed and tested. These have now been purchased by numerous sites for use in the field.
The comparison is an 8.2kg weight to carry with the new, light-weight couplings, compared to the 62kg D-Shackles which had been used previously.
The reduced weight also allows for a single person to connect the recovery gear prior to extraction, which takes away the requirement for a two-person lift in usually compromised, rough/wet terrain where machines become bogged or require towing.
It is incredible to see this sort of innovation being developed by local people on our doorstep, Josh Leppard and his team are headed to Germany soon to the World Mining Expo to present the idea and we can't wait to watch this small business continue to kick goals in innovative safety.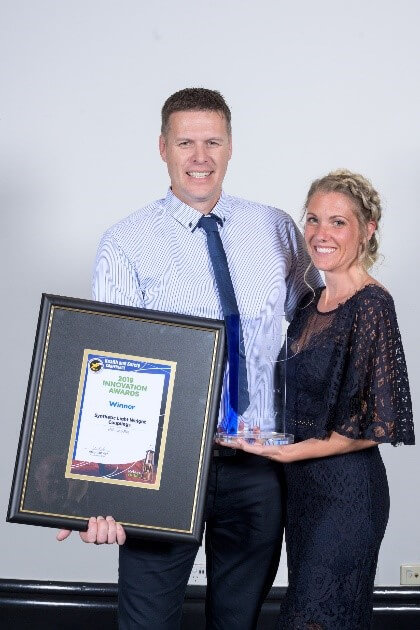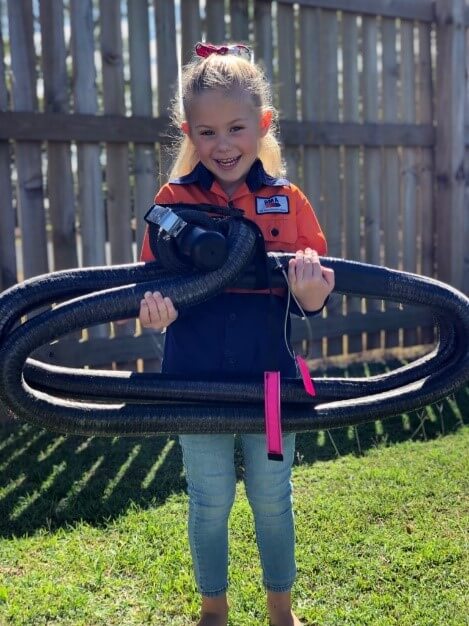 INNOVATION WINNER: Josh Leppard, with wife, Natasha with his Queensland Innovation Award (at left); and his daughter Alliara with the product which earned him the award.
---
Naidoc presents opportunity to local indigenous suppliers through Local Buying Program
Each year, NAIDOC Week presents an opportunity for all Australians to come together to celebrate the history, culture and achievements of Aboriginal and Torres Strait Islander people – the oldest continuing cultures on the planet. Across QLD, BMA and BMC Sites celebrated NAIDOC week in a range of different ways using the Local Buying Program to engage local suppliers to help.
Activities for NAIDOC week across sites included staff barbeques, morning teas and Kup Murris (traditional feasting ceremonies), as well as the distribution of NAIDOC polo shirts.
The BMA Hay Point Coal terminal team was fortunate to experience Local Buying Program supplier, The First Cooks, as part of this year's celebration.
Phil Ah Wang engaged BMA employees in a traditional Torres Strait Islander catering and feasting ceremony, known as the Kup Murri and as part of the experience, Phil also presented a moving speech to those who attended.
Cheryl Regan from BMA Hay Point said, "Phil's speech was very touching …The food was quite simply delicious and (The First Cook) played an important role to make our NAIDOC week a very special one".
Through using the Local Buying Program to engage The First Cook and other suppliers for NAIDOC week suppliers were engaged and paid quickly and easily. Phil Ah Wang from The First Cook said of the experience, that he "appreciated the prompt payment which helped us immensely recovering our cost and made it an overall positive experience".
---
LBP local small businesses benefit from foundation-supported Bridging the Boundaries program
Business Support and Facilitation Officers are celebrating a year of supporting businesses in the Isaac and Central Highlands region, thanks to funding from the Local Buying Foundation.
As part of the Bridging the Boundaries program, business support officers are working to connect small businesses with a range of resources and support to address key local challenges and build both capacity and resilience.
Since the commencement of this role in the Isaac and Central Highlands regions, a range of events and courses have been facilitated to ensure small businesses have access to high quality training to help build the businesses capability and capacity.
Workshops throughout the year have included Digital Workshops, Marketing Mentoring, Financial Literacy, Guide to Good Governance, Social Media and Communication.
As well as offering support through the organisation of training and workshops, the business support officers' role is to help businesses link to the right people when it comes to finding support for different facets of being in business.
The positions are employed through Central Highlands Development Corporation in the Central Highlands region and the Greater Whitsunday Alliance in the Isaac region.
If you are having difficulties within your business or believe there is something that could benefit the business community, head to the websites of the organisations to find the details of your Business Support Officer for your region.
---
BHP gallery walks give insight into sites and local supply needs
Moranbah was the place to be for BHP/BMA/BMC employees and contractors interested in the process of the Supply Chain from end user to vendor in September.
The BHP Gallery Walk was made up of eight different stalls discussing a range of different processes, changes and updates within BHP Supply.
C-Res and the Local Buying Program was at one of the stalls along with the BHP Supply Business Partners Murray McKirdy, Kurt Benavides and James Pregnell.
The day comprised three two-hour sessions, where groups could move around the room hearing each station talk about their area and where it fits in BHP Supply.
It provided an opportunity for everyone to come together, focus on the production goal; look at what each part of the supply chain from end user to vendor had to contribute and share feedback on what was not working and what was not being communicated.
The other stations included information on the new supply model, production and maintenance priorities, commercial business partnerships, warehousing, inventory and logistics (WIL) operations, inventory, procurement, property and workplace and the culture committee.
C-Res and the Local Buying Program appreciated the opportunity to participate and present at the BHP Gallery Walks and the effort for those that organized and attended from across all of the BMA and BMC sites.
---
LBP automotive supplier is taylored for success with coveted CQ training award
Throughout the mining booms and busts, small towns like Dysart have been hit hard. Small businesses have often struggled stay open and keep staff and all know that working in mining communities can be very challenging.
Dysart small business, Taylored Automotive owner, Seamus Taylor, has always been passionate about his small community and that passionate has been duly rewarded.
Seamus and his business have been recognised with a Central Queensland Training Award for Small Employer of the Year.
When it comes to training, Taylored Automotive Services has adopted a policy that encourages all staff to undertake the training they want or need to be more successful in their chosen profession. That is whether they are a trainee or a tradesperson.
As a small business, Taylored Automotive recognised the importance of training in helping the business and its team to keep ahead of the competition and in supporting and maintaining quality staff members.
This is the second year Taylored Automotive has won this award and the Dysart community was excited to see one of their own – and a Local Buying Program Supplier – recognised for their investment into training for local employees.
---
CHBEA – a night to bring business excellence together
The Biennial Central Highlands Business Excellence Awards are designed to celebrate the efforts and achievements our Central Highlands diverse and dedicated business community and recognise their contribution to economic vitality and to creating the strong, robust community that is the Central Highlands.
Held on September 14, the Awards Gala Dinner attracted more than 250 people to the Emerald Town Hall – all for the purpose of celebrating the achievements of local businesses – many of which are registered suppliers with the Local Buying Program (LBP).
The Local Buying Foundation (LBF) sponsored two award categories on the night – the Innovation and Technology Business, won by SwarmFarm; and Not-For-Profit Business, awarded to CHRRUP.
C-Res, BHP and LBF Advisory Committee representatives said it was a great event hosted by Central Highlands Development Corporation, and it was fantastic to see many LBP suppliers nominated for many different awards.
C-Res congratulated LBP supplier, GT Hoses, for winning the Manufacturing, Trades and Construction award; and LBP supplier 4T Consultants on winning the Professional and Business Services Category award, and for their induction into the CHDC Business Excellence Hall of Fame.
---
Upcoming events
♦ 06 November, 7.00am – 4.00pm | AgTech: Build It. Use It. Profit. | EMERALD
The Local Buying Foundation is proud to be funding the event which brings together the smartest minds at the intersection of agriculture, machinery and technology to explore the future of agribusiness and showcase the latest innovations to improve farm and business profitability.
Funded by the Local Buying Foundation
More information
♦ 4 – 21 November, Various Times | Data Management for Small Business
GW3, ASBAS and the LBF have coordinated small business workshops for the communities in the Isaac region to attend and receive mentoring within their own business. This is the third workshop in the series which has been running in the Isaac since September.
Funded by the Local Buying Foundation
More information
♦ 13 November, 9.00am – 1.00pm | Capability Statement Workshop
Help your business stand out from the crowd and improve your chance of securing contracts by attending a Queensland Government hosted capability statement workshop. These interactive workshops help businesses develop and prepare effective capability statements.
More information
♦ 20-26 November, Various Times | GW3 November Networking | Isaac Region
It has been over a year since the Business Support Officer for GW3 has embedded herself into the Isaac community and to celebrate that year and bring light to the many opportunities that are available for small businesses in the Isaac region. Further information will be sent out in an update soon!  Be sure to save the date.
♦ 03-13 December, Various Times | QLD C-Res and BHP Networking Events | Blackwater, Dysart, Moranbah, Mackay
Step up your business prospects while still winding down for the year.
In a series of end-of year networking functions, the Local Buying Program, in conjunction with the Local Buying Foundation will give business owners and BHP Buyers throughout the Bowen Basin a chance to connect and get ready to do business better in 2020.
Make a note in your calendar and watch out for your chance to register for events in Blackwater (December 3), Dysart (December 4) and Moranbah (December 5), followed by a Business Breakfast on Friday, December 13.
All events are aimed at building the connections and the capacity and capabilities of businesses throughout the regions and are proudly supported by the Queensland Local Buying Foundation.
---


Local Buying Foundation – Queensland
The Local Buying Foundation (LBF) is a critical element of the Local Buying Program. BHP makes a financial contribution to the LBF for every approved LBP transaction. The aim of the LBF is to enhance the economic sustainability of regions within the operational footprint of BHP operations in Queensland through the support of programs and initiatives that target local business training and development needs.
LBF Highlights and eNews | July to September 2019
♦ Video review of Local Buying Foundation highlights for July – September 2019:
♦ Local Buying Foundation eNews | July – September 2019: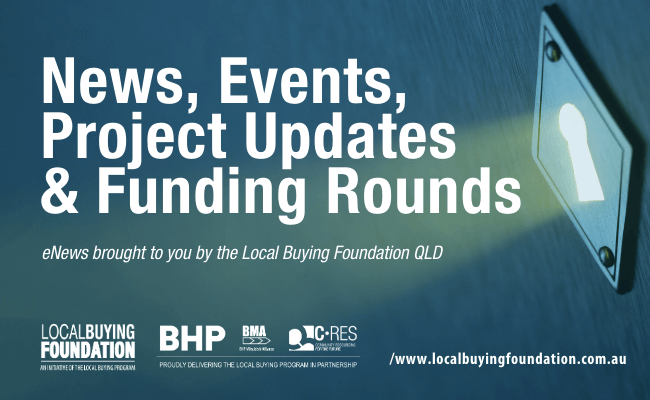 LBF Funding Rounds and Sponsored Events       
 
QLD Funding Round Dates for 2019 are:
◊ Funding Round 1 – 1 March 2019 (CLOSED)
◊ Funding Round 2 – 31 May 2019 (CLOSED)
◊ Funding Round 3 – 30 August 2019 (CLOSED)
◊ Funding Round 4 – 29 November 2019
LBF funded/sponsored events in 2019 include:
Bigger Better Stronger Workshop Series 2019 | July to October 2019
AIMEX | 27-29 August 2019
Healthy Minds Business Events | 10 September 2019
CH Business Excellence Awards 2019 | 14 September 2019
 5th Element Business Series – Building Dream Teams Conference| 3 October 2019
WA Mining Conference and Exhibition | 7-8 October 2019
Building Isaac Business Capabilities FY20 | 21 October and 24 October 2019
IMARC | 28-31 October 2019
AgTech: Build It. Use It. Profit. | 6 November 2019
---
Bowen Basin Business Development Initiative

The Bowen Basin Business Development Initiative (BBBDI) Strategy 2018 – 2019 is now available at www.bbbdi.com.au.
The BBBDI Strategy provides a framework for organisations and key stakeholders to assist in the planning and delivery of business development activities.
The Local Buying Foundation is proud to support this initiative as it is a critical document utilised by the Local Buying Foundation Advisory Committee when assessing funding applications for future projects and events.
---
See what is happening around Australia with LBP
Local Buying Program Highlights (July to September 2019) and Financial Year To Date Summaries: