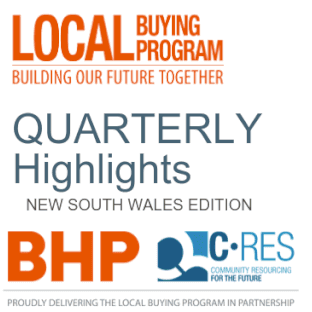 Local Buying Program in New South Wales
Highlights for New South Wales, 1 July 2019 to 30 September 2019:
$3,173,858.93 – Approved spend to local suppliers
243 – Approved work opportunities created by BHP employees
119 – Businesses approved to supply via the LBP
13.3 – Days average payment period from receipt of invoice
For a comprehensive overview of results for the last quarter, please see the Local Buying Program's New South Wales Financial Year To Date Summary.
For more information on the Local Buying Program in New South Wales please contact your local C-Res Business Development Advisor, Lisa Harpley, via email lisa.harpley@c-res.com.au  or visit our website.
---
Business encouraged to help give disengaged youth a better chance at employment
Local businesses discovered how they could help disadvantaged and disengaged youth a chance to RiseUp during the July Muswellbrook Chamber of Commerce breakfast.
The breakfast, at which Youth and Crime Prevention Unit Acting Zone Commander Sergeant Denise Lynch, attracted business people from throughout the region, including a number of Local Buying Program (LBP) Suppliers.  C-Res Business Development Advisor Lisa Harpley also attended the event.
During her presentation, Sgt Lynch, along with fellow visiting police personnel, discussed the opportunities available to local small businesses through the RiseUp program.  Sgt Lynch said the new strategy had been developed by the NSW Police Commissioner and aimed to give disengaged youth a better chance of getting and keeping a job.  She said it included job-ready programs, mentoring, vocational training for at-risk youth aged 15-18 and helped build their engagement through education, employment and a place in the community.
Like the LBP and LBF, this is a program which relies on partnerships, and Upper Hunter businesses are encouraged to get onboard.
Also present was Local Member of Parliament Michael Johnson MP, Detective Superintendent Chad Gillies, Detective A/Inspector Steve Benson, Senior Constable Sheree Gray and Senior Constable Keli Bastick.
For more information, go to: https://www.riseup.org.au
---
Procurement and how suppliers can offer solutions and services the focus of departing GM's address
The Upper Hunter Mining Dialogue worked in partnership with the Muswellbrook Chamber of Commerce and Industry to host a breakfast on Local Procurement Policies and Channels. The event attracted speakers from local mining companies including BHP, Mach Energy, Bengalla Mining Company and Thiess.
General Manager, David Boshoff – who has announced he would be leaving his current position on November 15 this year – presented on behalf of BHP Mt Arthur Coal with a focus on sourcing locally.
BHP Mt Arthur Coal employs more than 1500 local employees with a priority on quality over quantity coal; washing coal for a higher value.
Mr Boshoff showed the options for suppliers who have more than 20 FTE employees and for suppliers with fewer than 20 FTE.
The latter, of course, is the maximum number of futll-time equivalent employees Local Buying Program (LBP) Suppliers can have to register under the program, and C-Res Business Development Manager John Aurisch presented the benefits and answered questions about the LBP in the Upper Hunter and beyond.
Mr Aurisch also presented on the LBP FY19 results for the Local Buying Program, locally and across the Program's four footprints nationally, and gave an overview on the Local Buying Foundation.
---
Singleton Business Chamber has local business and LBP supplier opportunities in clear view
The Upper Hunter Mining Dialogue took a turn to Singleton to deliver, in partnership with Singleton Business Chamber, a Mining Procurement lunch on September 12.
The lunch enabled local supplier businesses – many of which were Local Buying Program registered small businesses – to connect with the mining industry. The event was also a chance to provide information regarding locally operating mining companies and their procurement processes and opportunities.
Guest speakers for the Singleton event included representatives of The Bloomfield Group, Thiess, Peabody Energy, and C-Res for the Local Buying Program at BHP.
C-Res Business Development Manager John Aurisch followed up the presentation in Muswellbrook with an encore, discussing the Local Buying Program and how we work in partnership with BHP Mt Arthur Coal to provide procurement opportunities to small local businesses in the Singleton, Muswellbrook and Upper Hunter Shires. Mr Aurisch also mentioned a number of the projects and programs which had been named beneficiaries of the Local Buying Foundation in the region and had the opportunity to discuss, one-to-one, with suppliers how C-Res could help strengthen their opportunities and overcome challenges through the LBP.
---
Shared expertise and project possibilities on the agenda at Scone Trade Expo
Scone Home Timber & Hardware hosted the annual Trade Expo on September 12, with local builders, tradies and small businesses from throughout the region taking the opportunity to network, meet suppliers and share knowledge.
More than 25 industry suppliers were showing their wares as part of the expo with businesses and tradies – many of whom were Local Buying Program Suppliers – learning about the latest in developments and knowledge around industry goods and services.
The Local Buying Foundation in New South Wales was proud to be one of the sponsors of the annual event, recognising the alignment with the Foundation's core objective of building sustainable business futures.
There to lend their support and provide information to local, LBP registered Suppliers, C-Res' Business Development Advisor, Lisa Harpley, and Business Development Manager, John Aurisch, were able to engage with businesses, answer questions and share information about the opportunities which came with being registered with the LBP. They were also able to show how to register with the Program.
The Scone Trade Show was strong local networking event and while following the usual mantra of good food and drink bringing out the masses, it lived up to the expectation of being an event big on entertainment, networking opportunities and an apprentice challenge likely to now become an annual attraction.
---
LBP uses an innovative technique to ferret out unwanted rabbits on site at MAC
It's not the kind of problem you might think needs solving on a mine site. But when Mt Arthur Coal needed help controlling a pesky situation of rabbits, it was a local vermin control business to the rescue. And some ferrets.
It was through the Local Buying Program that Mt Arthur Coal found S & J Vermin Control.
What resulted was a novel method of controlling the rabbit situation, without what might have been nasty for the environment and surrounding areas.
The local supplier sorted the rabbits with not a machine or any poisons in sight. Instead, they ferreted the rabbits out. Literally!
S & J Vermin Control used ferrets to flush out rabbit borrows and, once chased out of their warrens, they could be caught in traps set up around the designated area.
S & J Vermin Control got the job done and Mt Arthur Coal could assure that not using machinery or poisons had significantly reduced the risks not only from the machinery and hazardous materials. It also allowed work on structures such as dam walls that pose risk if machinery is used.
A natural alternative that is now a way of the future for the site: This method will broaden pest animal control used.
---
Upcoming events
♦ 5 November | MCCI Chamber Breakfast | MUSWELLBROOK
MCCI invites members and guests to the monthly chamber breakfast. Opportunities for networking and information sharing. This month's theme is yet to be advised.
♦ 10 November | BLAST | SINGLETON
Grab the family for this celebration of fun and active living! Kicking off at 9am on 10 November 2019, Civic Park will become an adventure playground for the whole family. Blast will feature loads of outdoor action across seven zones. Fuel up on snacks from food trucks, check out the strongman competition, obstacle course, and heaps of kids activities including rock climbing, bubble soccer, LaserTag, camel rides, jumping castles and much more. Blast is a family-friendly, inclusive event for all ages – best of all, most activities are FREE
More Information
♦ 14 November | Singleton Business Chamber Men's Health | SINGLETON
Singleton Business Chamber invites members and guests to the monthly chamber event Opportunities for networking and information sharing. This months theme is Men's Health.
---

Local Buying Foundation – New South Wales
The Local Buying Foundation (LBF) is a critical element of the Local Buying Program. BHP makes a financial contribution to the LBF for every approved LBP transaction. The aim of the LBF is to enhance the economic sustainability of regions within the operational footprint of BHP operations in New South Wales through the support of programs and initiatives that target local business training and development needs.
LBF Highlights and eNews | July to September 2019
♦ Video review of Local Buying Foundation highlights for July – September 2019:
♦ Local Buying Foundation eNews | July – September 2019: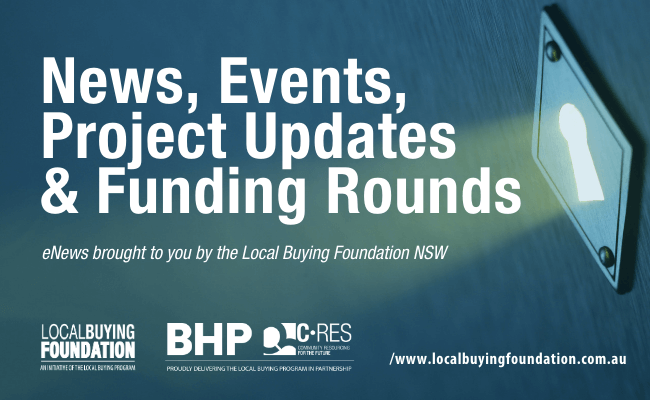 LBF Funding Rounds 2020
Dates for NSW Funding Rounds will be released soon.  For more information, please contact Lisa Harpley via email lisa.harpley@c-res.com.au.
For further information regarding funding guidelines, application forms and closing dates please visit www.localbuyingfoundation.com.au.
We look forward to sharing outcomes as the following supported projects roll out through 2019:
Building Connected Business Communities
Upper Hunter Country Tourism Website
Live Work Invest Scone Stage 2
Upper Hunter Country: Visitors Guide 2019
Riverside Community Training Kitchen
Business Master Class Series
---
See what is happening around Australia with LBP
Local Buying Program Highlights (July to September 2019) and Financial Year To Date Summaries: